Case Study: "Expectations" – Being a Humanitarian vs a Tourist
GER to GER Mongolia Case Study – Foster Respect and Learning: If you buy a rural humanitarian trip is it ethical to "judge" it as a vacation? Ethics 101
THE CASE STUDY: "Expectations" – contracted to be a Humanitarian Traveler but treats/bashes everything like a "Tourist with an Attitude"; Reality Humanitarian Trips are not our vacation packaged trips. People need to learn how to read/listen to the details (website, contracts, workshops, etc.).
Why should GERtoGER be abused/liable for such "tourists" who don't read/listen/choose the correct trip for themselves?
Folks you decide as this case study represents the negativity that I have encountered on Trip Advisor/Lonely Planet's Thorn Tree… In all honestly, the Question that should be asked is… "How do these tourists rate as humanitarians?" Reasoning – they all purchased/contracted humanitarian trips that are 100% managed by locals that allows foreigners an opportunity to learn how to become humanitarians; disrespecting a highly qualified instructor/workshop, disrespecting the local communities, etc., is not what we instruct. Question, why do they intentionally choose us and the wrong travel services for themselves? Indeed that's the true question that highlights their motives which is clarified in their overly abusive posts – often Unethical Special Interest Groups a.k.a the 1%, etc. (Humanitarian Trips are not GER to GER's standard 'vacation' packaged trips that score highly 9.2 out of 10 for tourists/adventure travelers)
Please Learn more via this Ethics Case Study – http://www.zanjan-fromer.com/mongolia-gertoger-review-humanitarian-trips/
Learn the Facts
Stop Torturing the Underdog
Learn how Unethical Special Interest Groups are 'fraudulently' using Trip Advisor/Lonely Planet Platforms as a "Weapon" to destroy humanitarians, community organizations and rural family businesses; Super Authoritative (Negative) SEO
Anti-Trust issue as both Platforms DO NOT verify any facts with "the accused", do not communicate to obtain further evidence etc., by telephone, emails, etc., and do not provide any "Burden of Proof" to allow such defamatory and public defamations (support 'he said/she said' hearsay) to remain 'public' on their websites for years; of which damages the opportunities of 'good' people, businesses and organizations both online and offline around the World.
Goliaths vs. The Underdog
Mr. Zanjan Fromer and GER to GER Mongolia Victims of Fraud | Fake Reviews | Scams | Evidence Officially Being Released in 2017 as Case Studies
Mr. Fromer has decided to release Years of Fraud Investigation Findings, Evidence and Materials starting February 2017 to counter Organized Fraud and Unlawful Public Defamations that aimed to Unethically Control Public/Market Opinion via Manipulating Massive Online Platforms as a "Weapon" for Cross Border Cybercrimes aimed at Hijacking Google Search Engine Results via Super Authoritative/Negative SEO Tactics to destroy a Humanitarian Organization and its Founder (as a result, I was stalked and harassed for years owing to fraud reports). Mr. Fromer is an internationally recognized humanitarian/developer/explorer with over 22+ years of development works/successful due diligences by top international institutions who established a community organization to assist rural nomadic families and their communities to earn alternative incomes via community tourism throughout Mongolia.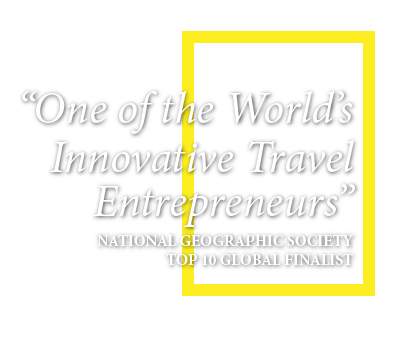 Mr. Zanjan Fromer, American Founder of GERtoGER.org and internationally recognized humanitarian (www.Zanjan-Fromer.com / Recognized by National Geographic Society, Awarded Mongolia's 2nd Highest Medal of Honor, UNESCAP and much more), after years of being patiently abused by unethical interest groups has officially decided to release important video evidence to the general public on February 19, 2017 of a known fraud that 100% counters such extreme scams, online fraudulent reviews and public defamations. Mr. Fromer has decided to release other materials for public consideration (case studies) to proactively initiate a fair and ethical fight against Fraud, Fake Reviews, Unethical Public Defamations, etc., that are plaguing #TripAdvisor, #LonelyPlanet, #Google+, Facebook, etc., by unethical interest groups to influence markets, Google
Search Engine Results, etc.; and ultimately, to destroy humanitarian works with rural families and communities in developing countries.
Mr. Fromer is GER to GER's Founder ("The Underdog") was apart of the FIRST USAID TEAMs to advance Mongolia's Transitional Development and has been operating in Mongolia forover 20+ years (www.Zanjan-Fromer.com); We (GERtoGER.org and Mr. Fromer) are here to ethically develop the country and combat fraud, poverty, unethical interest groups, etc., just about anything that destroys a country's social economic transitional advancement opportunities (whether foreign or domestic) – we are here to ethically support you (domestics and internationals), Mongolia's industries and the country!
Which makes us kinda easy targets – Respect.
Past blog that provides a good situational assessment in addition to this blog – http://www.zanjan-fromer.com/ger-to-ger-review-ulaanbaatar-mongolia-ecotourism-agency-foundation/
This is how Most of 6,000+ International Travelers will Respond… But NOT the handful of Scammers and Unethical Interest Groupies
Thank you kindly and to the other travelers… I wish everyone would go online and provide "truthful reporting and reviews" to combat all this fraud – thanks!
Owing to our proactive works – 2015/16 there are much less scammers and fraudulent reviews being conducted by unethical interest groups and their instigators; most scams and fake reviews took place between 2012 to 2014 – however, as scammers are getting exposed there is a lot less 'recent and current' fake reviews on Trip Advisor and Lonely Planet (just a few scammers out of 100s of travelers per year). Those scammers shouldn't be allowed to negatively manipulate markets via Trip Advisor/Lonely Planet and destroy the incomes of rural families that are apart of these humanitarian trips; Lonely Planet, Trip Advisor and these Fake Reviewers should provide the "Burden of Proof" for allowing such defamatory fake reviews to exist so long while I have tried countless times to communicate to them and that these are fraudulent reviews.
Keeping it Real: Mentalities and Agendas
Simply, it's stabilization (developers) vs destabilization (interest groups). Which is best for a country's development?
Interest Groups: "It's the developers who are the issue – let's make up stories, harass and get them discredited/kicked out; let's do so much stuff that makes developers constantly complain about a country and leave"
Developers: "Let's analyze/foster supply/value chain nodes and maximize ethical market strengthening/sharing for mutual gains across the country/society"
End of Story: hence, I have patiently mapped this out for more than a few years as a "developer" and finally decided to release evidence and investigation materials in February 2017 as I have had enough; this should make it a lot easier for Investigators.
UNETHICAL TRAVEL POLITICS
Till today February 17, 2017, it's been nearly a decade of non-stop harassment, stalkings, etc., owing to fraudulent reports to unethically stir-up public defamations (on and offline). Nonetheless, I did receive the country's 2nd Highest Medal of Honor and a bunch of other international recognitions (www.Zanjan-Fromer.com) despite #GOOGLE attempt at suppressing Organic Search Results owing to FRAUDULENT Anti-Trust "Super Authoritative SEO" methods employed by both #LonelyPlanet and #TripAdvisor against our humanitarian organization (www.GERtoGER.org); this method blocks other "success stories", blogs, articles, reviews, etc., from reaching the top (99% of our client satisfied/success rate)… a very unethical/intentional method of 'misuse of power' hence Anti-Trust to deceive/misinform the public based on the "less than 1%" exaggerated dissatisfied or fraud reports.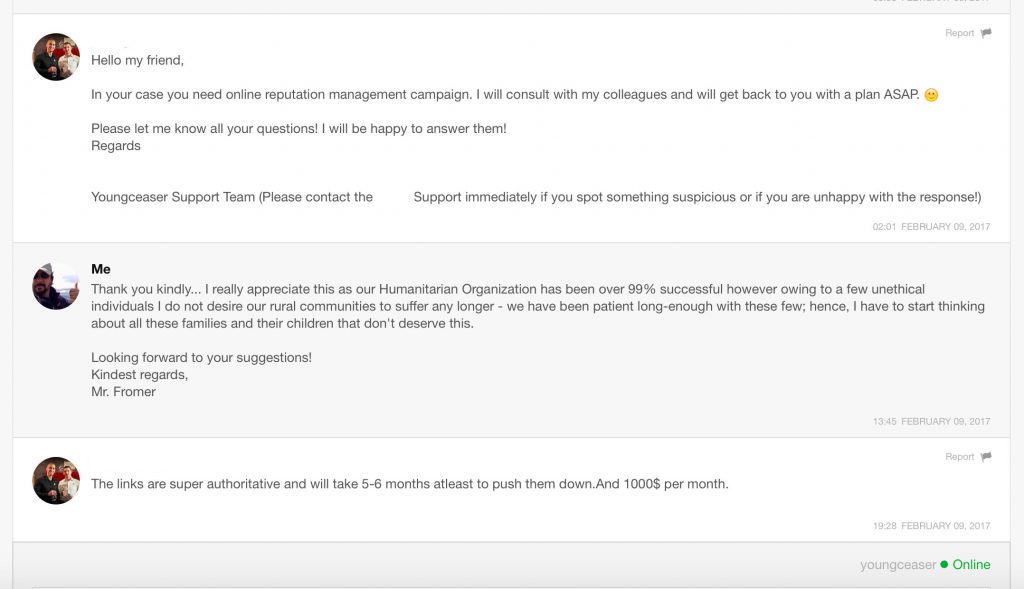 Super Authoritative (Negative) SEO to SUPPORT FRAUD
Independent IT Team Investigated and Reported their Findings; Trip Advisor and Lonely Planet's Google links are "Super Authoritative SEO" and can not be easily taken off the first page… Anti-Trust.
"Super Authoritative SEO/Negative SEO" as IT guys call it – all know that this method will block 'real' news, articles, blogs, etc., from properly placing on Google Search Engines which eventually kills businesses and organizations owing to effect of fake reviews being interpreted as 'real'. This method allows Goliath platforms to be misused/manipulated into catalysts for a small handful fake/fraudulent reviews (scammers) to destroy businesses as it looks as if its 'global market truth' when in reality it's less than 1% of total clients; way less – less than 20 or so from 6,000+.
It's a methodical methodology to destroy conservation initiatives; being destroyed by unethical interest groups is something common to Jane Goodall, Sea Shepard, Blood Lion, Green Peace, etc., of which I am sure they can all personally testify to their own issues with such unethical interest groups and their diversity of methodologies (on and offline)… They protect animals, however we at GER to GER protect the world last thriving Nomadic Populations.
Mr. Fromer first became aware of this issue around 2013/14 and tried numerous times to communicate with Google – after countless failed attempts Mr. Fromer finally was able to have a conversation with one lady at Google who provided critical insight. This woman swore that "…it wasn't Google however there were others manipulating the Google system…"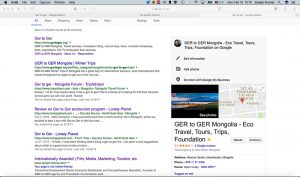 SEO MARKET MANIPULATION
For nearly a Decade both Lonely Planet and Trip Advisor have unethically contributed towards "market manipulation" via aggressively allowing their Goliath "Super Authoritative SEO" platform capacities to unethically target and destroy businesses (including humanitarian organizations such as ours).
GER to GER isn't the first nor last… Italy recently fined Trip Advisor OVER $500,000 USD for fake reviews, Anti-Trust, etc…
Weathering the Storm
Ethics Question: how can less than a dozen or so exaggerated/fake online reviews (some not even clients) from some 6,000+ successful travelers allow these Goliaths to TORTURE/SHAME THE UNDERDOG? (most of these exaggerated/fake complaints are almost a half-decade old!)
So for the past few years, when the American Founder (me) tried to directly contact and provide "the supportive evidence" that counters these fake online reviews, etc., in order to bring down these Fraudulent Activities, both Lonely Planet and Trip Advisor have intentionally ignored all emails, phone calls, etc., over the past few years… Any/all telephone calls would be left on hold for HOURS AND FOR DAYS; even today Feb. 17, 2017 I haven't received any follow up emails/calls from neither Trip Advisor nor Lonely Planet (2014, 2015, 2016). These Goliaths do not provide any legal documentation to support these online fraud activities… but they continue to apply the "burden of proof" on me and when I provide it – we'll they just ignore me and continue with the fraudulent-support activities.
Today (Feb. 13, 2017), owing to the "Passion" of both Founders for the local rural peoples and nomadic tribes of Mongolia… both have used a considerable amount of their personal savings for the past few years in order to continue floating these humanitarian works for rural nomadic tribes across the Country.
Seriously folks, it's about time to work together to fight ONLINE FRAUD and any/all support is greatly appreciated! #CNN #FoxNews #BBC #ARD1 #ABC #CBS #NBC #Facebook #Twitter #Reuters #AssociatedPress #AP #Bloomberg #NFL #MBL #NATGEO #UN #USAID #EUAID #NYTimes #UNWTO #USUN #MakeAmericaGreatAgain #ATTA #gym #martialarts #fitness #fitnessmodel #travel #asia #eu #UK #germany #adventure #expeditions #trips #film #producer #travelgram #instagram #filmphotography #filmmaking #production
SINCE 2005 TILL 2017, LESS THAN 1% FROM 6,000+ TRAVELERS FOR OVER 10 YEARS HAVE REPORTED ISSUES
(less than 20 if you refer Trip Advisor and Lonely Planet blogs into account)…
What is shocking is that both Trip Advisor and Lonely Planet would TEAM-UP against this Alaskan "underdog" and actively engage in supporting these very public defamations against an #American and destroy my decades of international professional credibility (www.Zanjan-Fromer.com) and country-wide humanitarian works (www.GERtoGER.org) through Public Deception, Harassment and supporting Fraud Reviews on their Platforms, etc..
One has to understand that both Lonely Planet and Trip Advisor have incredible power that can be manipulated towards Fraudulent Anti-Trust "Super Authoritative SEO" Methods (THIS HAS BEEN CONFIRMED) TO PROMOTE and HIGHLY PLACE FAKE REVIEWS/FRAUDULENT REPORTS and/or exaggerated outdated reviews as current/trusted News (Anti-Trust); 1 exaggerated review is over 7 years old, but online readers wouldn't know that – they make it sound like it's general opinion of today which it isn't.
In order to undo these Goliaths' unethical works and allow the last decades of successful efforts (blogs, articles, etc.) to become 100% unsuppressed via a personally financed IT Initiative it will cost THOUSANDS OF DOLLARS AND UP TO 6 MONTHS… without any guarantees of success… Not to mention the incredible amount of damages it has already done to both me as a professional and our Humanitarian Organization's strong global market presence; National Geographic, UNESCAP, Rough Riders, etc., dozens and dozens of travel articles by Professional Agencies, etc.
Italy FINES Trip Advisor Over 500,000 USD for Anti-Trust Issues; Fraudulent and Fake Reviews that are Defamatory, etc.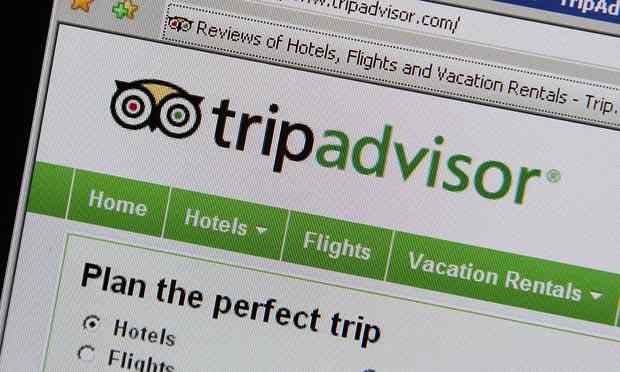 Like Italy, GER to GER maintains a high rate of satisfaction of over 99% with over 6,000+ internationals… For over a decade GER to GER has had only less than 1% complete failures = 60 or less with less than 20 online complaints on Trip Advisor/Lonely Planet Thorn Tree.

Now having stated the aforementioned GER to GER still maintains a high rate of satisfaction of over 99%… For over a decade GER to GER has had only less than 1% complete failures (Humanitarian Travel; budget trips with local villages and nomads) where a given traveler felt it was necessary to go online to "shamelessly bash" our organization (more than half of the such cases were based on "a scammer putting a hair in the burger" to get a free meal). Once their fraudulent "Get a Free Trip" scam failed, disgruntled scammers pursued to commit online fraud on Trip Advisor and Lonely Planet as they DO NOT VERIFY ANY FACTS – they solely operate on "HE SAID/SHE SAID so it must be true policies…!" which means I can post a review stating that you are a "serial-killer", destroy your lifeworks, etc., and it must be true because I posted it with NO EVIDENCE (Awesome Criminal Fraud-Ring!); very poor operating procedures hence all the Anti-Trust Lawsuits against Trip Advisor, etc. Among those accounts we have investigated and discovered "Burn Accounts" – fake profiles that are used by unethical interest groups and competitors to sabotage our market and opportunities via Trip Advisor and Lonely Planet.
Italy's antitrust authority has fined the travel planning website TripAdvisor €500,000 (£392,000/US$600,000) following complaints of improper business practices lodged by a national hoteliers' association and a consumer protection agency.
The antitrust authority said in a statement that TripAdvisor had failed to adopt controls to prevent false reviews, while at the same time promoting the site's content as "authentic and genuine". It has given TripAdvisor 90 days to present a remedy.
The Federalberghi federation of hoteliers welcomed the decision, citing the numerous examples of "defamatory" reviews that have appeared on the site.
QUICKLY IDENTIFYING A BURN ACCOUNT – Trip Advisor Fraud/Fake Reports
I'm not Mongolian at all… I'm 100% Alaskan born in the United States of America.
Over the years, I have conducted my investigation along a methodical timeline and I quickly determined a reoccurring pattern with these online frauds on both Trip Advisor and Lonely Planet – almost ALL frauds that post fake reviews only have ONE POST next to their names in the past few years (maybe a few reviews but the # of posts is less than normal); these types of 'burn accounts' were all generated around the same year (2012/2013) with most of them only having just ONE POST to their account names… GOAL – to organize a massively public "slash and burn" defamation event via fraud/fake reports and reviews.
Hence, most of these are "burn accounts" set up to defame a person and then abandon the post online with the goal of never taking down the post. The goal, to inflect the maximum damage to a person's creditability with no influence to the poster.
Mr. Fromer still waits for Trip Advisor and Lonely Planet Thorn Tree to remove Fraudulent Reviews for 8 years and counting! Trip Advisor and Lonely Planet are not willing to communicate – they do not desire to review evidences nor are they willing provide any evidence to support their position in supporting fraud and public defamation on their internet platforms.
Trip Advisor Platform Plagued with Coordinated Unethical Market Manipulation and Organized Fraud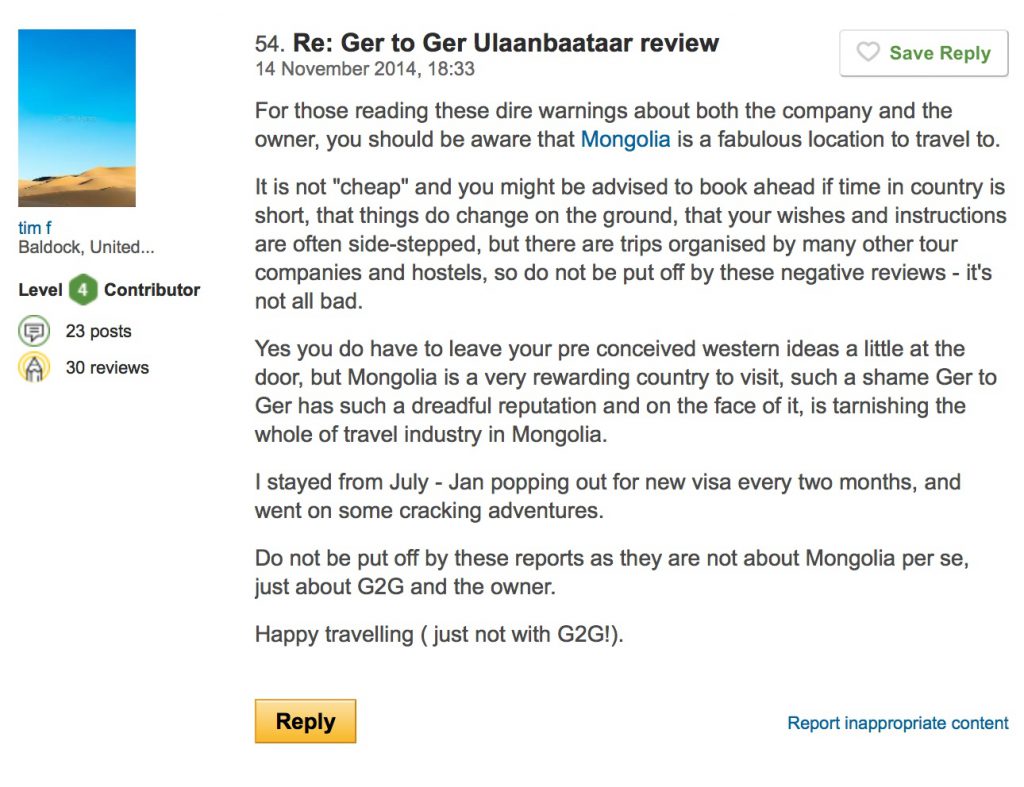 Despite TimF's unsupported defamatory remarks on November 2014 – I, Mr. Zanjan Fromer, was the First American Awarded Mongolia's 2nd Highest Medal of Honor "The Ministerial Gold Star of Leadership" just 10 months later on September 2015…
Question: How did I tarnish the Whole Mongolian Tourism Industry? Please do explain in detail. And if I did tarnish the industry, Why did the Mongolian Government Award me their 2nd Highest Medal of Honor? How do you justify your fraudulent statements with reality?
My Recommendation: Review and try to comprehend my professional history on www.Zajan-Fromer.com and then please kindly explain how you came to that evaluation…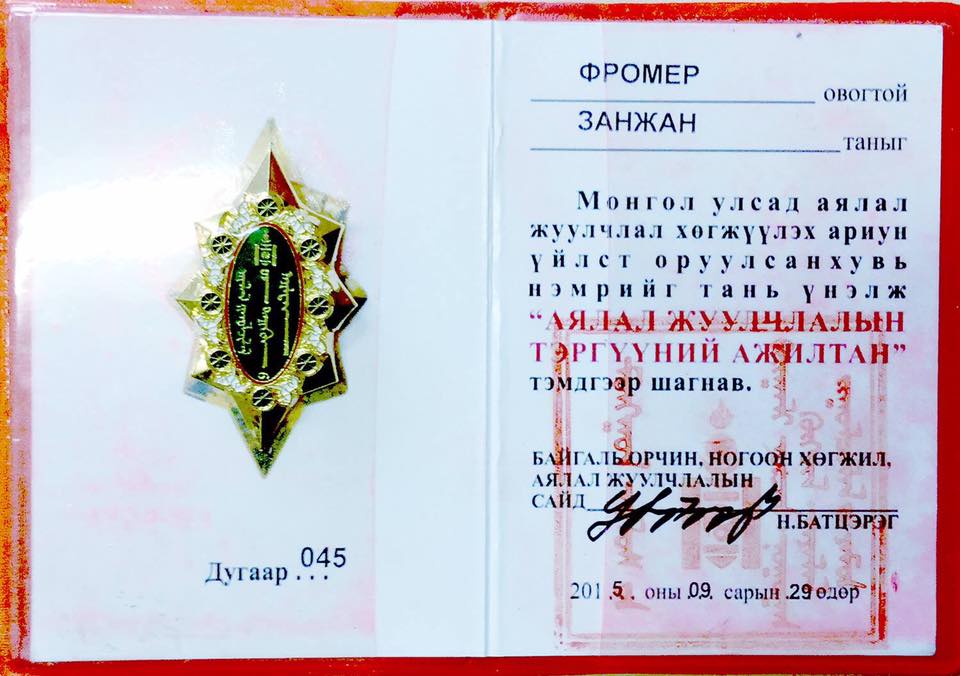 "Burn Accounts" to Organize Fraud and Commit Public Defamation via Fake Reviews
Via this "burn account" a "fake review' was posted to support online fraud/defamation – this person never met me and doesn't even know my nationality…
High Degree of Organized Fraud, Public Defamation and Identity Theft
Organized fraud with the intent to stir up public defamation, etc.; hence, any/all reviews have to be taken with a 'grain of salt' as it has been clearly proven the high degree of fraud/defamation that is involved.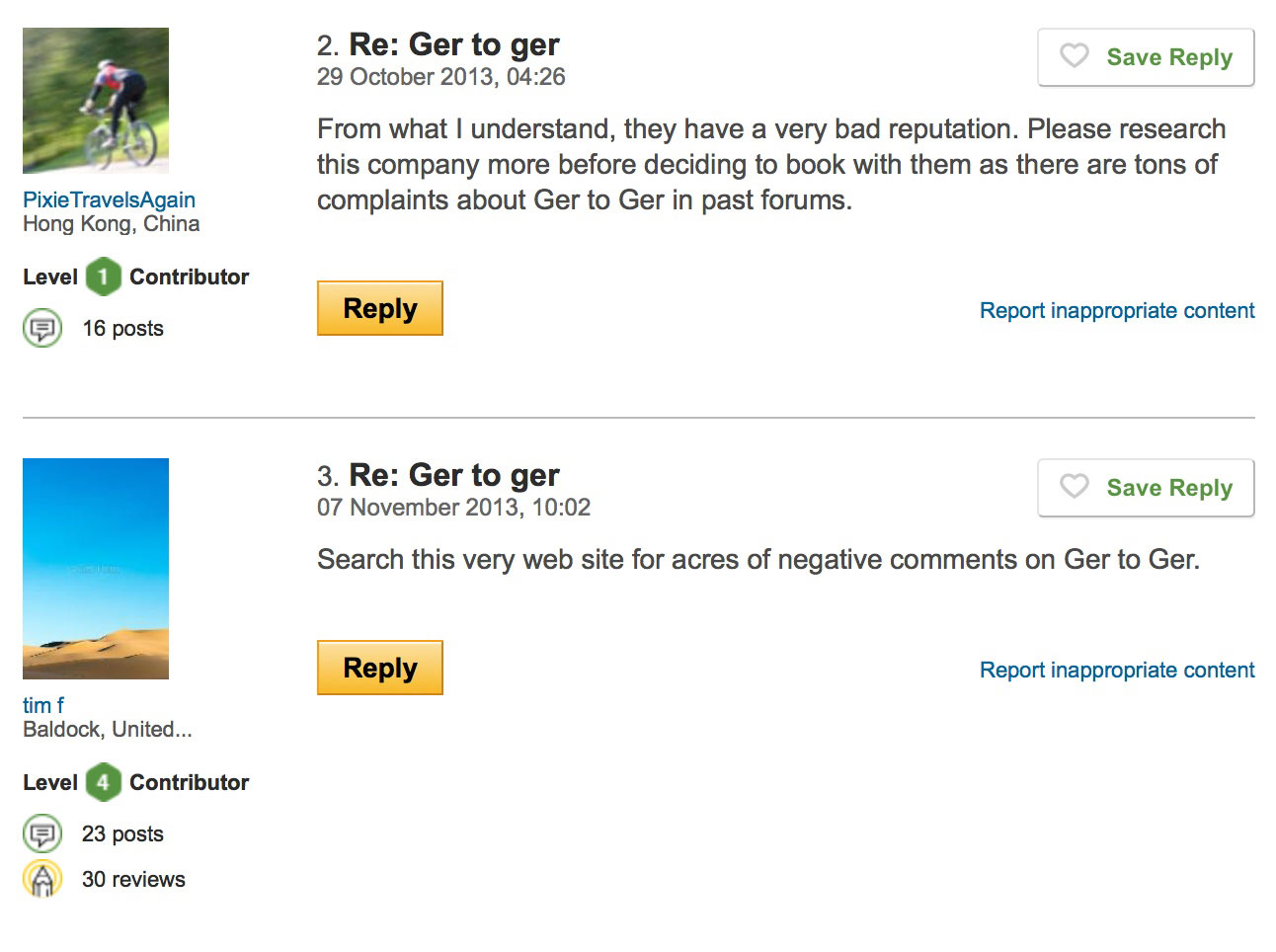 100% Identity Theft via Public Defamation
For years I have requested Trip Advisor to delete non-client comments, especially those who are known to support fraud activities and encourage public defamation via 'burn account' posts; making it look and seem like real reviews but in reality just promoting fake reviews to damage both business and people… even till today Feb. 2017 – Trip Advisor doesn't remove online remarks of non-client scammers who instigate public defamation without any supportive documentation – merely "he said/she said" so it's fact… but in reality it's not fact at all – where is the documentation? etc?
Mr. Fromer has been waiting patiently for Trip Advisor to remove fake and fraudulent remarks/reviews for over 4 years!
Unethical Interest Groups and Market Competition would often travel along GER to GER, learn how we operate, and initiative fraudulent activities to harm GER to GER's online image (without care for the rural families' incomes and opportunities)… to which unethical interest group instigators would further manipulate popular opinion unethically to destroy organizations like GER to GER.
If you refer to all of TimF's posts he even tries to encourage me into an unethical online arguments while using this Feed to belittle GER to GER and recommend travelers go elsewhere… What is interesting is that both Trip Advisor Members have no association with GER to GER (never clients) however they shamelessly support fraud and report "he said/she said" as facts without "Burden of Proof" to support their Public Defamatory Remarks/Reviews. Refer to the Trip Advisor Post below: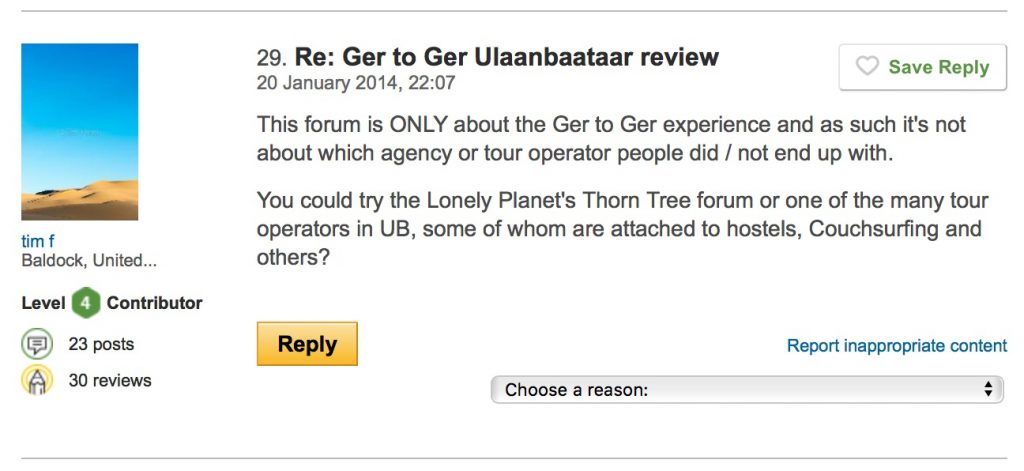 Fraud / Defamation / Unethical Interest Groups – Case Studies
Mr. Simon Lok "Get A FREE VACATION" SCAM and more…
(Fake/Fraudulent Reviews Contribute towards Google SEO Manipulations – Organized CyberCrimes)
Mr. Simon Lok is one from a list of known scammers, fraud, etc.; others include a Spanish couple, a few Hong Kong, a Canadian, a few UKs, unfortunately a few fellow countrymen/women from USA, etc… The only violent, aggressive, etc., ones are Mr. Lok, The Spanish couple and a Canadian guy (and a couple more). As for the rest from 2011/12-ish till today, 1 out of 10+ are annoying and unprofessional unethical interest groupies – they typically enjoy harassing the staff/me as we professionally attempt to carryout our works, training workshops, and etc., and sometimes they also stalk us as well.
We've always tried to recommend those who are seeking "entertainment parks" to consider traveling with other operators prior to all 'humanitarian expeditions', every person on Trip Advisor and Lonely Planet who write reviews have all been kindly informed and they all accepted; in fact, we have signed contracts that state this and much more to which they all read prior to any trips followed by a 2 hour training.
The Video Evidence
Mr. Simon Lok's Tried to "Physically Bully" a Woman Office Worker 'Who was Just Sitting and Talking at her Desk'… Mr. Lok was Successfully Stopped by Mr. Zanjan Fromer just a "meter" from her desk.
Review the first seconds of the video – Mr. Fromer stopped Mr. Lok from rushing a female office colleague's desk violently by placing himself between the Mr. Lok and a female colleague (look at Mr. Lok's feet, they are less than a meter from the female office worker's desk)… Even Mr. Fromer's voice was extremely agitated and rightfully so – however Mr. Lok's voice was cool and calm like a rehearsed criminal… Nonetheless, Mr. Fromer was exceptionally professional.
Video Evidence: Mr. Lok "Disturbing the Peace"
Mr. Lok had 100% intent to interfere by strong-arming the ongoing monitor/evaluation investigation's outcome via usage of physical violence against a female office worker while Mr. Lok was drunk; Hence, Mr. Fromer quickly stood in-between and took the video
(Mr. Lok never stated "I'm Not Drunk" but rather gave his full name and started to repeat himself over and over again like a drunk)
First and foremost please note that Mr. Lok violently rushed my female colleague's desk until I stood up and wedged myself in-between them; at the beginning of the video you can see Mr. Lok's feet-location is less than a meter from my female colleague's desk and she is silent on the video as she was in shocked by what transpired.
This video is proof to the fact Mr. Lok was indeed 'disturbing the peace' and would not leave the office and allow GER to GER to conduct it's Monitor and Evaluation. Note that it is GER to GER's Policty to follow up any 'potential complaint' with a rapid fact finding investigation – we are 100/100 on all investigation and have awarded refunds when necessary.
Soon after I stopped video taping the situation – Mr. Lok left shouting – "Me and other business people are going to destroy you and GER to GER, you just watch" and I asked him how is that possible you've only been on this trip and you don't know anyone, response "I know many businesses and we've been discussing how to destroy you and GER to GER for awhile, you just watch, we will all destroy you!"
Yes – Mr. Lok's trip was a planned attempt at sabotaging GER to GER (not the first time an unethical interest group or competitor has attempted to do this), Mr. Lok wasn't a 'lone wolf' – it was indeed a coordinated attempt at Fraud, Defraud, Public Defamation, CyberCrimes, etc.
It was a "fraudulent scam" to discredit GER to GER…
Mr. Lok was forcing his "scam" before GER to GER could obtain all the facts.

Mr. Lok was forcing GER to GER to defraud/illegally break contracts with Rural Nomadic Family's via 'he said/she said' without any evidence, fact finding, interviewing and consultations, etc.

Mr. Lok indeed followed through his threats of trying to publicly destroy both Mr. Zanjan Fromer and GER to GER as Mr. Fromer did not make any public posts until Mr. Lok continued with his fraud and public defamation activities and Mr. Fromer (me) had to respond.
Please note that Mr. Fromer has not made this video public till February 19, 2017 owing to Facebook and other social media websites not removing Mr. Lok's Fraudulent Reviews for over 2 Years!
ORGANIZED Public Defamation/Smear Campaign via Fraudulent Reviews on Facebook, Google, Trip Advisor and Lonely Planet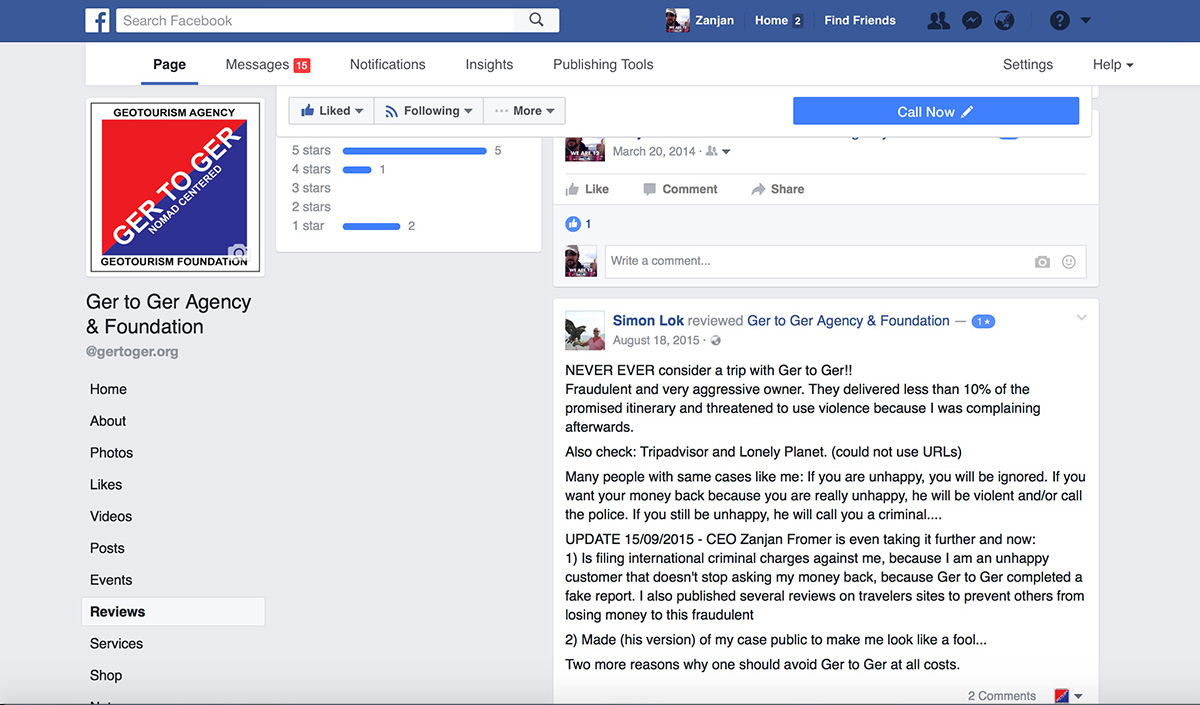 Refer to the Video: Mr. Fromer WAS PROFESSIONAL, NEVER THREATENED TO USE VIOLENCE
For 2 years and counting, Mr. Fromer has patiently waited for Facebook, Lonely Planet and Trip Advisor to correct online fraud/fake reviews – none of the online platforms have their facts right… but they still promote organized criminal activities i.e. fraud, slander, public defamation, etc., against innocent victims as fact with no supportive evidence to justify their positions; only 100% rumor-driven reporting "he said/she said" reviews as fact…
Contrary to online reviews via Facebook, Trip Advisor and Lonely Planet – Mr. Fromer releases unseen video footage on February 19, 2017 that counters Mr. Lok's public defamation campaigning that fraudulently states that Mr. Fromer was threatening to use violence… That was never the case – Facebook, Lonely Planet and Trip Advisor indeed DO NOT VERIFY FACTS.
Mr. Fromer has been patiently waiting for Facebook to remove Fraudulent Review for 2 years!
The Spanish Scam
Steal from Locals, Scam for a FREE TRIP and Go Online to Provide a Defamatory Fake Review to Protect Themselves

This couple are 100% Scammers… Mr. Simon Lok is definitely #1 however this couple is #2… followed by #3 a Canadian couple.
Tourist Mentality vs Explorer
Generally this is only a case study to highlight "Expectations" and the process of learning to become an explorer with knowledge of a culture vs a Tourist wanting an 'Entertainment Park'… Hence, it does follow into the category of inaccurate review.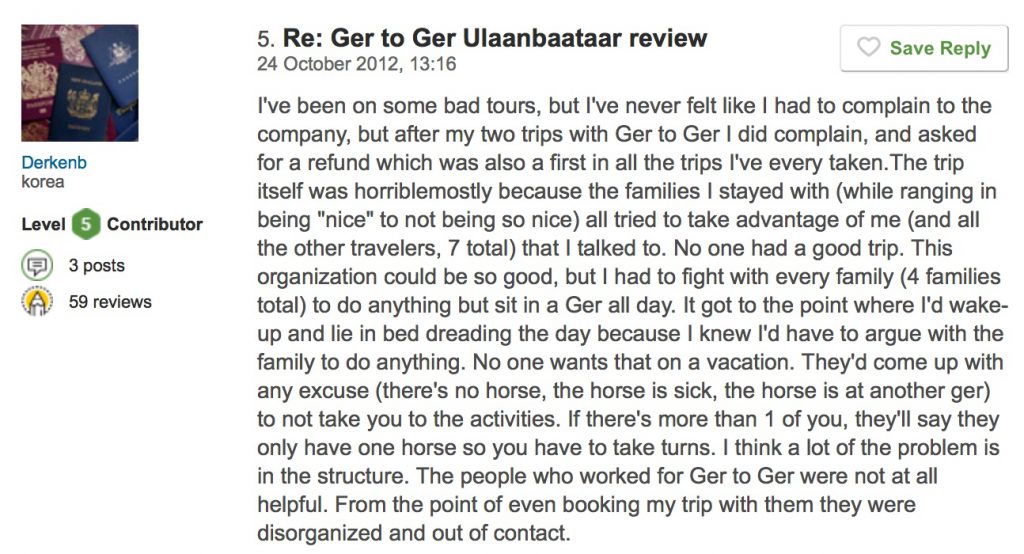 Though I differ with this review, as this person was trained prior to the trip, I do remember him trying to scam GER to GER into "purchasing" him a new backpack that he broke during his trip; this just highlights his level of travel experience and wanting to use an opportunity to exploit our office. Nonetheless, the important point is "Expectations" we do get a handful of travelers that are wanting to do something like GER to GER because it sounds Great, however, when they are faced with the reality of 'ethnographic' cultural style of travel with locals it greatly differs from their past experiences with 'entertainment parks'.
We've always tried to recommend those who are seeking "entertainment parks" to consider traveling with other operators prior to all 'humanitarian expeditions', every person on Trip Advisor and Lonely Planet who write reviews have all been kindly informed and they all accepted; in fact, we have signed contracts that state this and much more to which they all read prior to any trips followed by a 2 hour training.
Pre-Trip Situation
Before the trip began during a 2 hour training workshop with Mr. Lok had taken place, Mr. Lok was informed about a dozen times that the trip he desires is out of season. Metaphorically, it's like wanting to go Snow Boarding on snow in a desert when the desert is at its hottest summer temperatures… it's not going to happen.
For nearly 2 hours, I, Zanjan Fromer, had conducted the training workshop and explained that GER to GER can not accept any responsibility nor guarantee this humanitarian trip's 1) quality of experience 2) nor will the itinerary be followed as stated online. Hence, GER to GER told Mr. Lok that GER to GER would not send Mr. Lok (full refund prior to departure or select another location) on this trip unless Mr. Lok took 100% liability for the quality of the trip; NOT GER to GER – Mr. Lok fully accepted with witnesses in GER to GER office and GER to GER sent Mr. Lok accordingly.
Side Note: GER to GER's driver was worried about Mr. Lok upon arrival in Mongolia – it was stated that Mr. Lok was exceptionally angry as they drove to GER to GER office from the Airport.
Post Trip Monitor and Evaluations
Despite Mr. Lok's online fraudulent reviews and very public defamations made in 2015 (summer/fall) – after GER to GER conducted its investigation into the matter, we were all shocked to discover that the trip was actually "brilliant!" Locals took extremely good care of Mr. Lok, he attended a local traditional wedding ceremony and a whole bunch of other experiences – the local's "Level of Effort" was definitely we'll past 110%… We have a long list of activities and events of which Mr. Lok participated in that has been confirmed by eye-witness around the region.
Side Note: Mr. Lok's trip was confirmed by various rural locals being randomly interviewed by different individuals to ensure authenticity of information; random inquiries were made without giving locals the specifics.
Monitor and Evaluations Document Link: https://www.gertoger.org/public-defraud-and-defamation-case-ger-to-ger-vs-mr-simon-lok/
The Video Breakdown – Counter Evidence to Mr. Lok's Fraudulent Online Statements and Public Defamation of Mr. Fromer
Please note that Mr. Fromer has not made this video public till February 19, 2017 owing to Facebook and other social media websites not removing Mr. Lok's Fraudulent Reviews for over 2 Years when requested. For 2 years, Mr. Fromer has had to suffer both personally and professionally as Mr. Lok continued his very publicly sway public opinion into believing that Mr. Fromer is a violent and unprofessional; Mr. Fromer had desired to be patient and allow Mr. Lok an opportunity to calm down and remove his fraudulent posts (2 years) – however Mr. Lok and his unethical interest group don't desire to be ethical, hence this video is now public evidence that counters Mr. Lok's fraudulent reviews and remarks.
As Mr. Fromer states, reviews written on Trip Advisor, Lonely Planet, Facebook, etc., are "not true and nor are they accurate"… Less than 1% of GER to GER travelers are unethical interest groups and scammers however this 1% is greatly manipulating GER to GER's markets and public opinion hence Mr. Fromer (me) is uploading this video evidence to counter Mr. Lok's fraudulent reports, reviews and remarks.
Before the video, GER to GER had handled Mr. Lok's situation with professionalism.

Before the video, GER to GER had conducted a 20 to 30 minute interview, made notes and was prepared to conduct its "monitor and evaluation" works.

The video was taken quickly as a means to stop Mr. Lok's overly aggressive behavior:

When GER to GER stated that we have obtained Mr. Lok's information and now we need to confirm details with the rural communities (humanitarian trip), Mr. Lok quickly became violent and was charging Ms. Bayarsuren Yalalt's desk; not Mr. Lok's foot position at the beginning of the video he is standing less than from my colleagues desk.

I, Mr. Zanjan Fromer, quickly stood from my desk and wedge myself into Mr. Lok's pathway towards Ms. Bayarsuren Yalalt's desk as proceed to record the situation.

Yes, indeed my voice is agitated as Mr. Lok was non-cooperative, drunk and his alcohol reeked our entire office, and Mr. Lok had become violent towards my female colleague.

Mr. Lok was standing not in the client lounge area but rather less than a meter from Ms. Bayarsuren Yalalt's desk shocked as he didn't expect that I would stand in-between them and start taking video footage; protective measure.

When Mr. Lok was asked on camera to kindly leave our office again, Mr. Lok proceed to start repeating himself and continued to "Disturb the Peace"; what is interesting is that Mr. Lok's voice isn't agitated like mine but rather a 'cool and rehearsed' criminal-like.

Note, Mr. Zanjan Fromer, beyond being having an agitated voice (and for good reasons) – there was absolutely no threats of violence as Mr. Lok has publicly enjoyed 2 years of publicly defaming Mr. Fromer on Facebook and other social media websites via "fraudulent reviews and remarks".
CONCLUSION: Goliaths vs. The Underdog
Personal Message to the Goliaths – You've overlooked one critical piece of data with this Alaskan – this "underdog" is an American Transitional Development Specialist with over 20+ years of overseas expertise in developing/transitional countries… Hence, I can/have taken your best beatings and more without becoming Violent…
For years you've tried your Best and for years YOU HAVE FAILED.
Question: Besides Mr. Lok, who else gains the most in destroying Mr. Zanjan Fromer's Professional Credibility and GER to GER Humanitarian Organization? Ask yourself the counter questions and follow the trail of possibilities…
Who else would love to "poach" all the human and community assets/resources that have been established across Mongolia by Mr. Fromer and GER to GER?
If Mr. Zanjan Fromer's is professionally discredited – Mr. Fromer would be kicked out of Mongolia, GER to GER would become defenseless and eventually fall…
So, who outside of GER to GER has the most to gain from such an unfortunate event?
Few major comprehensive keys: 1) Who can manipulate Google? 2) Two Sources (an independent and Google themselves) stated usage unethical Super Authoritative SEO 3) who is using Super Authoritative SEO? (Trip Advisor and Lonely Planet) 4) Who would want to invest time, money and human resources into destroying GER to GER and why? 5) Refer to Mr. Simon Lok's Threats…
Mr. Lok's threats:
"Me and other business people are going to destroy you and GER to GER, you just watch!"
"I know many businesses, powerful people and we've been discussing how to destroy you and GER to GER for awhile, you just watch – we will all destroy you!"
Yes indeed – there are countless laws that have been broken for the past few years by these unethical interest groups and their groupies… by local and international businesses… Mr. Lok's threats are true except for one thing… The Goliaths haven't destroyed Me, Mr. Zanjan Fromer, nor GER to GER yet.
I have been intentionally patient for years – now that I have done most of the investigative works, mapped and time-lined people, events, etc. … Professional Agencies can now easily get their jobs done; this all started with a handful of people that went off the deep-end that unethically rallied others into unethical interest groupies… You know who you are and so do I.
Respect
The Calvin "Cancellation" Scam
Unethical Interest Groupie – Shadow Client/Burn Account
1 Post from 2013 to 2017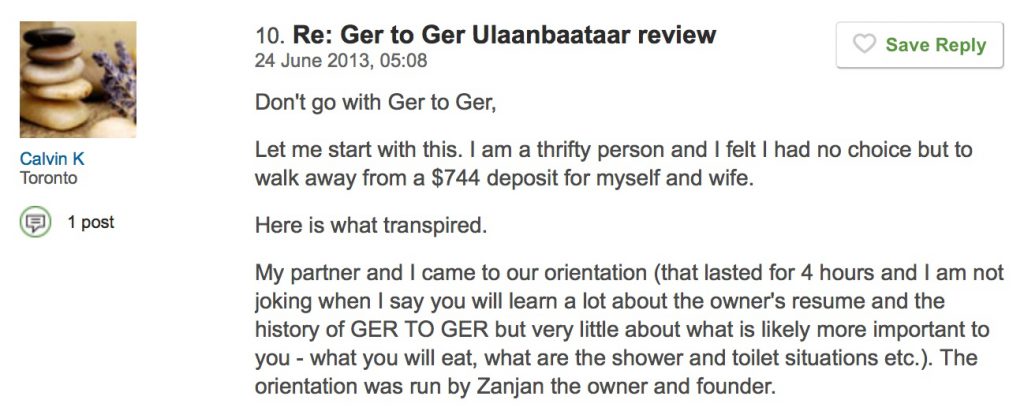 Oh how I clearly remember Mr. Clavin, from the start Mr. Calvin was 100% uncooperative – I have conducted 1000s of Responsible Cultural Trainings for 1000s of internationals around the world, and Mr. Calvin represents what unethical interest groups do.
During my professional training, Mr. Calvin would open and close his legs and literally shove his "private area" directly into my face countless times, when I kindly tried to explain to his during a portion of the training "what and what not to do" with your Mongolian hosts – Mr. Calvin disrespectfully disregarded all instructions. Yes, I indeed mentioned that it seemed "gay-ish" as I also personally took offense to his constant actions that lasted for almost an hour – I stated respectfully as Mongolia is a country where being overly forthcoming about certain things is not well received; I didn't as a health/safety notification. Mr. Calvin then proceed to show his quick anger to my explanation and it seemed as if he may become aggressive – so I kindly informed Mr. Calvin indirectly that "I am trained", but not as a threat but as a means to detour Mr. Calvin from any unethical/violent frames, setups or entrapments that he may be trying to engage in as I conducted the training… Seriously, I was seriously shocked as to whom is this man (Mr. Calvin) in my office and why this person is behaving so rude and aggressive with me and my staff; so, "one once of prevention is more than a pound of cure" – so I stand honorably to my 'polite' statement as a "means of prevention" and it worked – I have no issues with being transparent and honest.
I can 100% agree that unethical interest groupies like Calvin are generally caught before departure and our office never desires to send such people out to the countryside as it creates more issues than positives. Nonetheless, we decided among ourselves that they could go – so we prepped everything for their travel: human resources, driver, guide, locals, accommodations, etc., only to be shocked that the next day Clavin pulls a "Cancellation Scam" just before the trip begins.
Well just like everyone else – we have cancellation policies, terms and conditions that we must follow – if we allow scammers like Calvin to reclaim the nonrefundable deposit then we open ourselves to international scrutiny for having weak and bias policies.
And I think that was the point… Force GER to GER to give the refund and show the world that we are 'biased' to even our own policies and take a cheaper trip with someone else and If that fails, then just go online and provide another fake review.
Have look at the Trip Advisor dates for Clavin – JUST ONE POST for 4 YEARS; and during the same dates as most of the the other interest groupies between 2012-14.
Date-wise, there are not a lot of Fraudulent Reviews for 2015/16 – and there is a reason… The Frauds are getting exposed.
What Do I Desire?
For nearly a decade my life has been turned upside down more than once, twice and three times…
I have lost lots of time, credibility and opportunities owing to unconfirmed, unverified, unsubstantiated, etc., online fraudulent reviews and reports… I have been stalked, targeted and harassed by governments and locals who didn't have all the information to determine truth from fraud for years… My Human Rights violated 100s of times, my business and professional credibility played with fraudulently, public defamation, and a whole lot more…
"Justice" for starters would be brilliant – however, seeing that I never got an apology nor the time and date to have an discussion with these folks for the past few years… I think following Italy's example is proper now.
International Class-Action Lawyers… You are all invited; there is a long list of items to pursue a case…