Is TripAdvisor
THE TRAVEL INDUSTRY'S
Great Hack!? Profiler!? Agitator!? Disruptor!?
THE FOE – THAT ACTS LIKE A FRIEND!?
By the END of this webpage… YOU will see for yourself.
TripAdvisor's "LONG HISTORY" of TRANSNATIONAL ANTITRUST, EXTORTION & RECKLESS ENDANGERMENT Issues
("transnational"; large company operating internationally)

(part of my anticorruption / anti-exploitation initiative to protect the vulnerable/marginalized/etc., aka www.lastLIFEline.org)
It's DUE TIME to become aware of the dangers of Information Warfare, Targeting and Weaponization
"Watch this VIDEO to learn the basic of INFORMATION WARFARE and how we all can be easily targeted (I know firsthand as I've been targeted around the world and have been greatly violated for almost a decade)… The Question that MUST be answered is what level of weaponization has Trip Advisor reached – in comparison to Cambridge Analytica, Facebook, Google, etc… – and how that impacts hotels, cafes, restaurants, businesses, people, etc., etc., etc., and all our social economic health, safety, personal security and welfare?" Antitrust?!
Is TripAdvisor involved in Data Weaponization to CONTROL Markets, Businesses, People and even Google Search Results… Lets find out!
With
INTENT to RECKLESSLY ENDANGER

travel specialists & humanitarians' social economic & personal security via the fostering of false and disparaging narratives that BIASLY manipulate markets (fraud, corporate fraud, etc.) =

ANTITRUST
Has TripAdvisor been a long-time member of the Data Weaponization Club to CONTROL Markets, Businesses, People, even Google Search Engine results to discredit some professionals via unethically allowing libelous trolling with people's full-names that 100% violates TripAdvisor's own "Guidelines" (as well as the personal social economic safety of the targeted victim), etc… and other antitrust deniability schemes; anonymous postings, lack of accountability, not verifying facts with business owners, intentionally denying the opportunity for self-representation, lack of due diligence/burden of proof, etc., etc., etc…!?
FALSE NARRATIVES DESTROYS REPUTATIONS, MARKETS and MORE
At GER to GER, based on records and conversations with clients, we estimate that:
Over a Decade 10,000 (approx.) Successes yet TripAdvisor Actively promotes the LESS THAN 1% FAILUREs that were "100% EXPOSED" as Frauds/Scams
TripAdvisor/Google's Fraudsters MO
Disrupt (Defraud, etc., via Confusing the Situation), Deflect/Discredit (The Truth), Deny (Any/All Liabilities)
Antitrust – From many legal explanations, these two are by far the most used tactics:
1. Boycotts within an industry to prevent competitors from entering markets;
2. Creation or misuse of monopoly power through wrongfully exclusionary means.
As TripAdvisor & Manipulated Google Search Engine's Results
has REAL global "hijacking" implications… it's time to MAP the damage as it's…
[ carefully review the "important" information via the quick tab menu below ]
UNREGULATED; NO PUBLIC TRANSPARENCY, NO ACCOUNTABILITY, 100% IRRESPONSIBLE

EASILY WEAPONIZED; METHOD/RESULTS

able to be LIFE-THREATENING; SITREP
Many might wonder why TripAdvisor has become a serious issue that I've decided to address... here's one of my personal responses:
Trip Advisor has crossed the line… they can now legally harass, create deprivation, destroy reputations, etc., at will via "deniability". They can target anyone/anytime via Anonymous comments/posts and claim ZERO responsibility and ZERO liability ("it wasn't us…")… Hence, the PERFECT WEAPONIZED HACK… there's ZERO transparency, nobody knows if Trip Advisor writes the libel themselves and/or an actual client and/or a random troll etc… Trip Advisor's ONLY hope is that everyone remains as 'mindless sheep' and believes that Trip Advisor's Guidelines means something when Trip Advisor hasn't followed their own Guidelines themselves for years (they indeed have a long history of Antitrust Issues around the world, etc.)... and that's what this webpage will CLEARLY address - from our Experiences.
Remember this... generally TripAdvisor's frauds, scammers and trolls' MO/SOP is to intentionally hijack Threads (which TripAdvisor allows that gets unethically boosted via Search Engines) - initially the threads read normal, nice and harmless till one reaches the section with the frauds/trolls; then as southerners say (slightly modified for the public):
"it ONLY takes 1 person to throw a COCKROACH in the punchbowl to make the most tastiest drink undrinkable..."
From 1000s of successes at GER to GER only a handful of libelous trolls were getting the spotlight for years

which is a complete market distortion and manipulation; aka, fraud/antitrust. From over a decade, GER to GER's nomad centered humanitarian Live Like A Local Experiences has witnessed around 10,000 successes with between 20 to 40 or so dissatisfied travelers - these folks just talked with us in our office like normal people do that have NO hidden Trip Advisor Agendas (nothing horrible - just that they wished that they had joined one of our jeep exploration tours instead) THAT equals less than 1% dissatisfied as 1% is equal to 100... HOWEVER, TripAdvisor makes no mention of these

successful Statistics

.
Nevertheless, what's not cool about this is that they've intentionally written about their situations in the wrong contexts - let me explain as to how/why...
Those trips aren't "tours" they are "reality nomadic experiences" that are 100% completely different type of experiences, environs, operational guidelines, trainings, terms/conditions, contracts, etc., as they are humanitarian in design and in purpose. These specialized humanitarian trips generate much needed alternative incomes for poor and marginalized nomadic families.

Hence, they are super cheap as the prices ethically reflects market value (zero overpaying) while providing job opportunities to these families - jobs that these families would traditionally not be able to obtain owing to the lack of their education, etc.
These unethical travelers (scammers) want to force these reality nomadic experiences into being written up unethically as "tours" to give their extortion/fraud/libel justification - which is 100% wrong as that's not how they were designed to be NOR how we've marketed them as "nomad centered community based tourism" products/services since the establishment of GER to GER; in accordance with our international donor partnerships from 2005-2007/08.
Simply, it's like intentionally choosing to couch-surf at remotely located and financially challenged rural people's homes/eat all their foods/etc., with the unethical intent of threatening to write libelously online as if they've booked a 5 Star Hotel Stay that they are dissatisfied with (lack of facilities, services, etc)… so that they can defraud these rural folks via extortion or destroy their market opportunities via libel on Trip Advisor, etc... if the rural folks don't agree to adhere to the travelers' defraud attempts
We have those "5 Star Tours" but what they don't write is that they didn't have the finances to pay for them and/or just choose not to buy a tour package to intentionally save cash (scammers); hence, another reason for their defraud attempts/online libel...

They're unethically committed to write everything not in the correct contexts to protect themselves from their bad judgements and/or criminal activities - thus being manipulative distortions aka fraudulent with the goal of being misleading to coverup their fraudulent activities while vindictively damaging our market opportunities and worse...

and via Trip Advisor's willful negligences, Trip Advisor continues to facilitate the fraudulent market distortions by intentionally not adhering to their own guidelines/etc.
As I've explained via this webpage in great detail -

Trip Advisor continues to engage in corporate fraud and antitrust... that damages our organization's name as well as mine as those libelous comments contain my full name which shows up on Google Search Engine (a complete violation of my personal security, social economic stability and much more); for years, Trip Advisor has been actively violating their own Guidelines. Owing to Trip Advisor's willful negligences - to the uninformed - the assumptions are that the libel must be true when it's not…

and via anonymous postings, Trip Advisor can now DENY any/all liability of any/all targeting of people and businesses that have suffered libelous victimizations.
Trip Advisor has indeed become the Travel Industry's "Perfect Weaponized Hack".
(Scroll through the ENTIRE webpage to comprehend the methodology)
Many travel businesses and professionals around the world are all suffering the same "Trip Advisor Extortion Hell" - 40% up to 61% of all online reviews have been researched as being fake (scammers/trolls vs small businesses). Sadly, Trip Advisor has directly destroyed the 'reputations' of COUNTLESS professionals by allowing legally unverified anonymous libel with "real peoples' names" to be fraudulently used for public victimization towards social economic deprivation via online libelous posts that shows up on Google Search Engine's results – via the person's name). As a direct result, some small businesses have been forced into bankruptcy owing to non-removal of legally unverified libel from Trip Advisor's website which destroys the markets. 
So, to protect GER to GER's nomadic families, our people and ourselves from such harm as Trip Advisor has placed my personal life into great jeopardy countless times (past decade) owing to Trip Advisor stirring up local nationalists/extremists, etc., into taking both social economic damaging and life-threatening actions against me without verify details nor allowing me to represent ourselves, etc., by allowing legally unverified libel to be posted on Trip Advisor and indexed by Global Search Engines... thus when typing my personal name and/or our organization's name our social economic and personal security continues to be GREATLY violated and GREATLY jeopardized (local & international: stalkings, harassments, etc.; and even my personal RURAL EXPEDITION vehicle (for extreme-remote outback expeditions in -60C/+40C temps) was being sabotaged to make it look like an 'accident' countless times - that's "homicide level"; busted critical parts, water injected into axle gearbox, etc.). Hence, we have carefully investigated Trip Advisor for many years and have produced our own findings - AND now we are going to share them publicly, via this webpage, in hopes to protect ourselves and countless others around the world who may have and/or are currently suffering the same as us.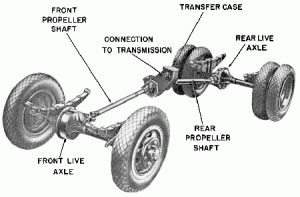 One of Many Life-Threatening Extremist Attempts at Sabotaging My Expedition Vehicle
By injecting water into the front axle gearbox [it's easy to access via simple external screw for injecting oil]: 1) in winter it will freeze and destroy the gearbox, shaft and apply pressure to the wheel bearings/CV Joints 2) in summer desert heat it will overheat and destroy the gearbox, bearings and even the CV Joint.

CYBERCRIME aimed at hacking ATTACKS against this webpage "100% EXPOSES & CONFIRMS" the reality of this situation.
When you have numerous attempted hacks via DDOS, Bad Bots, etc... using real and fake IPs (cloaking their true identity via false flag countries)... directly targeting "THIS PAGE",  then you know how real this situation is.
Here's just a "snapshot" of recent activities from yesterday... literally 10+ pages of attempted hacks - roughly 200+ attempted hijacks yesterday (AUGUST 17, 2020) while I was updating the website in relation to Trip Advisor Issues... it's all been logged; and, it's too late to pretend and act like "nothing" has been directed towards me - cybercrime targeting, etc.
TripAdvisor Fraud/Etc., and Google's Search Engine Manipulations
THIS MAP IS CURRENT – AUGUST 29, 2020 – ALL DOCUMENTATION HAS ALREADY BEEN DOWNLOADED FROM GOOGLE/TRIPADVISOR
(AFTER PUBLICIZING, RANKING #s/THREAD MAY CHANGE… REGARDLESS, IT CONFIRMS TripAdvisor/Google "ONGOING HISTORY OF ANTITRUST")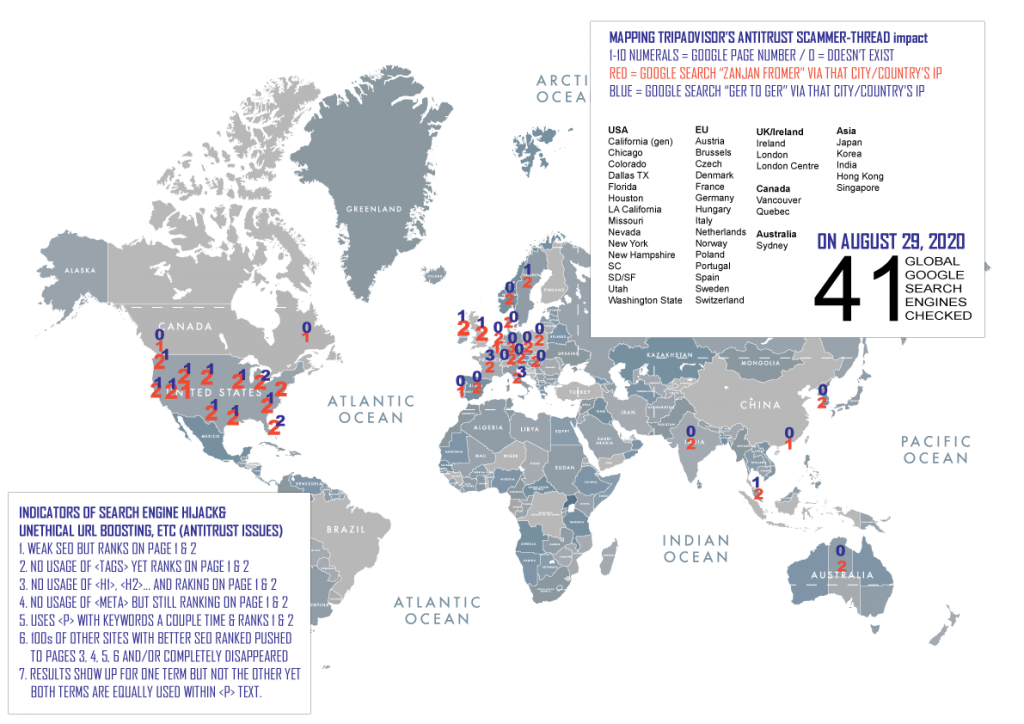 Organized Transnational Smear Campaign
"FALSE NARRATIVES, FRAUDULENT REPORTING, EXTORTION, PUBLIC DEFRAUD, DEFAMATION, LIBEL, RECKLESS ENDANGERMENT, ETC., CAN ALL BE CARRIED OUT WITHOUT "BURDEN OF PROOF", etc., AND ANONYMOUSLY – WITH ZERO ACCOUNTABILITY & ZERO LIABILITY"

What DOES all this mean?

PROOF OF WEAPONIZED TARGETING.
This MEANs anyone, just a mere handful of people, today has the ability to weaponize data (libel, etc.) and easily target anyone on Planet Earth to create social economic deprivation and so much more via TripAvisor & Google's Antitrust Issues; reckless endangering people's personal identity, professional reputations, jobs, background checks for work & travel, and so much more!
As you can see that across Asia, Australia, Canada and Europe when you type in "GER to GER" you will not see that TripAdvisor ScamPage… HOWEVER, when you type in my name "Zanjan Fromer" it shows up on Page 2 or even sometimes page 1... How is that possible? Criminal transnational ANTITRUST ACTIVITIES ARE TARGETING ME to recklessly endanger my social economic security across the world, and more; while attempting to reduce the negative impacts on GER to GER – an organization that I established – it seems that a small handful of people at TripAdvisor/Google strongly desire to strategically remove me permanently via engaging in such Criminal Transnational Antitrust Activities. These types of antitrust activities are NEAR to impossible to comprehend UNLESS you know exactly what to look for and have been actively monitoring the situation for years as well as possessing the knowledge and expertise to track, map and counter it; of which, I guess I have that they underestimated. 
So when we look into the coding of that Trip Advisor page – we can easily see that "GER to GER" is used 58 times in normal text and "Zanjan Fromer is only used 2 times within text… in the WORLD of SEO it should be IMPOSSIBLE for that TripAdvisor Page to Page Rank HIGHLY under my name and NOTHING under GER to GER's  name… such is in the case of Google's Europe, Canada, Asia and Australian Operations; while across the USA, all of a sudden GER to GER is now Paged Rank to #1 with Google Page Rankings.
The Truth is that whether it be in USA, Canada, Europe and/or Asia… REGARDLESS of "GER to GER" or "Zanjan Fromer" TripAdvisor's Scammer/Libelous Trolling Thread should NEVER be Page Ranking on Pages 1, 2 NOR 3… down to 5, 6, 7 sure but NEVER 1, 2, 3… as the SEO value of that page is SO LOW in comparison with 100s of other websites, bogs, vlogs, postings, etc., around the world that are HIGH VALUE in SEO.
Today, SEO Rules and Methods DOESN'T apply to TripAdvisor on Google – hence – Transnational Antitrust.
Can WE all say
Transnational Antitrust

!? This no joke… have a look.
LETS LOOK AT TripAdvisor's CODE
CODING AND GLOBALLY MANIPULATED GOOGLE SEARCH ENGINE RESULTS – DON'T LIE.
"GER to GER" used 58 times (excessive usage – not normal – intent is to manipulate SEO)!!! While "Zanjan Fromer" used 2 times within the text – HOWEVER – in the above map and in Search Engine Results…The Antitrust TripAdvisor Web Page in question, with only "2" text references (no keywords, metas, tags, h1, h2, h3, alt, etc., references to "Zanjan Fromer"), is able and more powerful to Rank Higher than 100s of other websites with PROPER SEO and tons of content that all reference "Zanjan Fromer"??? 
This is as common as believing that "Cows can jump over the moon…"… it's just NOT possible – hence – Antitrust Activities.
THE PROOF OF ANTITRUST IS IN THE CODING & GOOGLE RESULTS; 
it's 100% clear, without a doubt, that TripAdvisor & GOOGLE's 
"TARGETED" global smear campaign is INTENTIONALLY AIMED towards me
though 58 TIMES

 "GER to GER" 

USED
INTENTIONAL SEO MANIPULATION (HIJACKING "GER TO GER"); 
TECHNICALLY, IT SHOULD GOOGLE PAGE RANK LOW-AVERAGE (3, 4, 5) as there are more international publications about GER to GER that have much better SEO Ranking Capacity than this.
AS of AUG 29, 2020 – NO Google Page Rankings in Asia, Australia, Canada, Europe, etc.; it continues to not exist.
<< INTENTIONAL REDUCTION OF GLOBAL TARGETING >>

 Hence, Google & TripAdvisor isn't interested in targeting the smear campaign's at GER to GER by intentionally reducing impacts.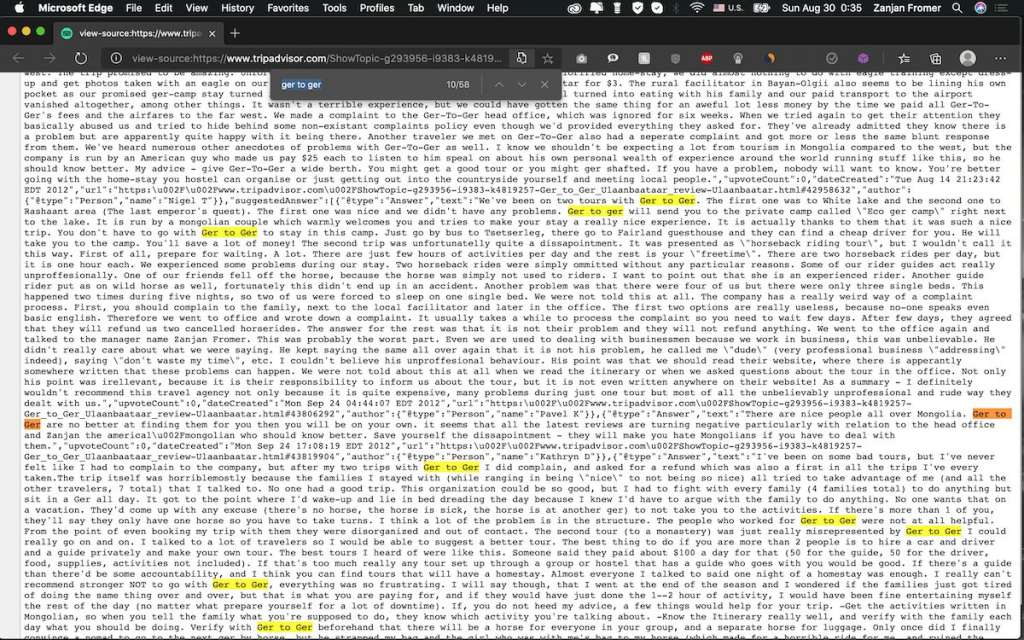 though 2 TIMES "Zanjan Fromer" USED
NORMAL USAGE (WEAK SEO VALUE) PASSIVELY TARGETING; 
TECHNICALLY, IT SHOULD NOT GOOGLE PAGE RANK HIGH AT ALL as around the world there are numerous publications, articles, shows, social media, etc., that are all more powerful in SEO than this.
AS of AUG 29, 2020 – Google Page Rankings across the world continues to unethically BOOST this Trip Advisor Thread to Page 1 & 2.
<< INTENTIONAL BOOSTING TO GLOBALLY TARGET >>
HENCE, it is 100% clear that I'm definitively the target of TripAdvisor & Google's smear campaign regardless of weak SEO.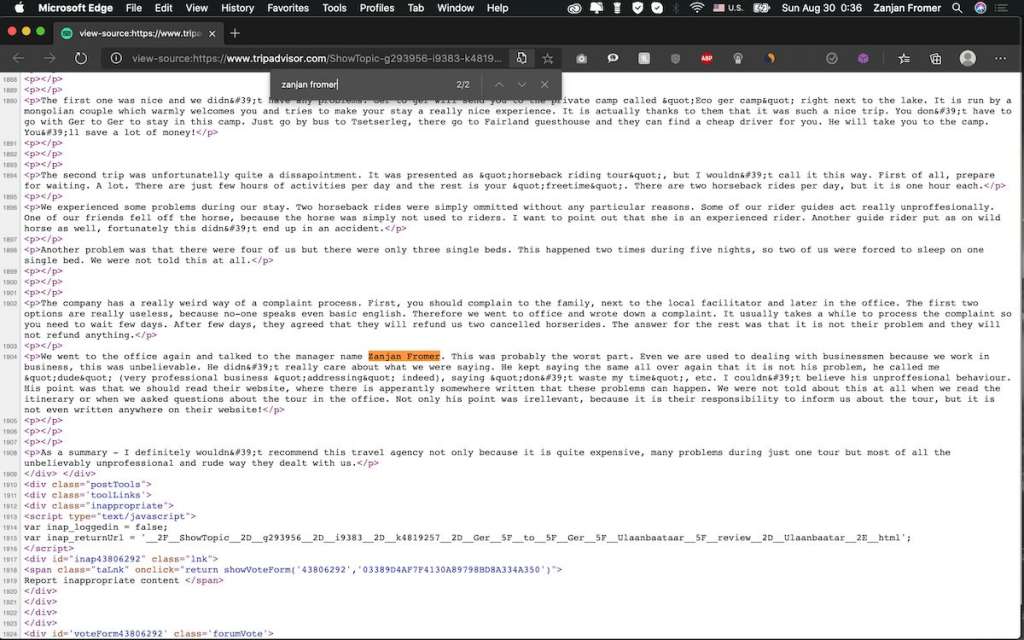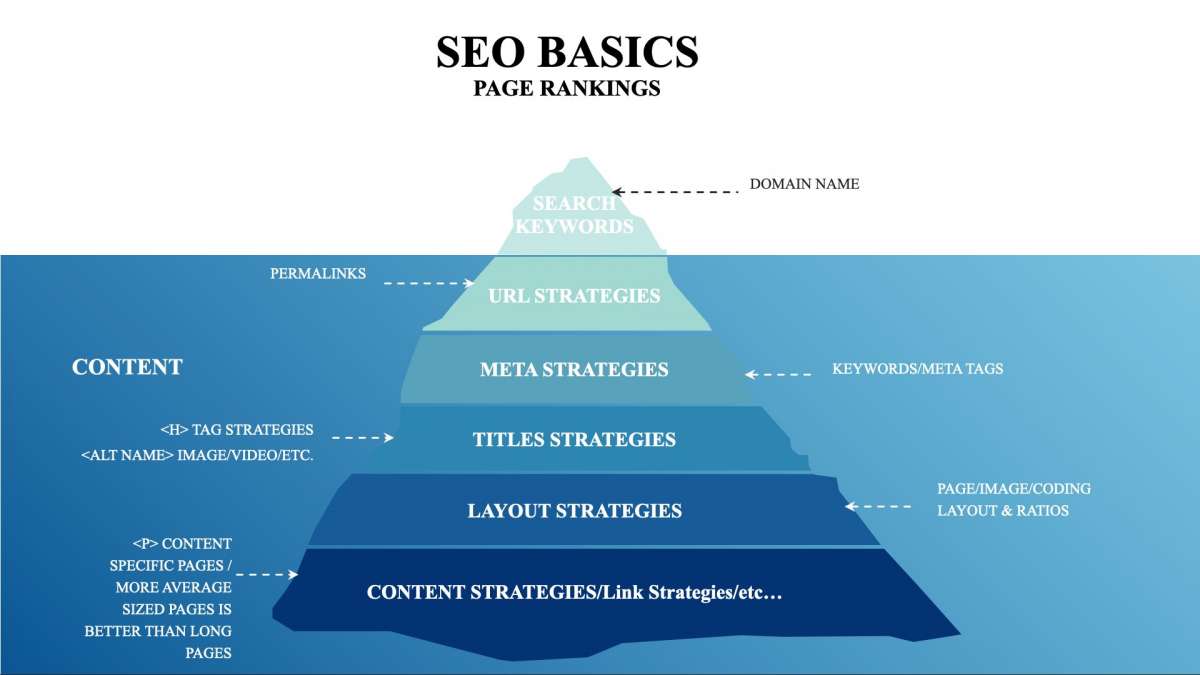 Trip Advisor MUST comprehend that allowing libel has repercussions on people like us abroad when we are surrounded by Extremists that have already tasted blood and exceptionally hate it when people talk bad about their country – especially – if another foreigner's name is linked with the libelous post (which is evidence that Trip Advisor willfully violates its own Guidelines – hence willful Corporate Fraud and Antitrust)… Example with a Mongolian Researcher: Lkhagvasumberel Tumursukh who's life and death has been a serious "wake up call" as Extremist do exist within the borders of Mongolia (as I have been communicating for years). Though many have tried to cover up his death – we all know locally in Mongolia that his death is a homicide as others have tried to kill him on past accounts (just a year earlier he was stabbed). His death was merely the result of actively defending the sanctuary of Mongolian Snow Leopards in a location where unethical mining companies were actively destroying the Snow Leopard's habitat. 
Murder-to-Look Suicidal and/or as an Accident is common place overseas – HENCE – Trip Advisor MUST become more responsible!
My Personal Note: Owing to a handful of unethical folks, for the next couple of years or so (however long it takes) I will indeed be doing some serious legal-house cleaning; it is time to bring about some justice to situations that have been unethically exploited (as I was overseas) by a handful of individuals backed by an unethical internet company – that doesn't validate nor fact-find yet proceeds to allow unlawful public defamation/libel that recklessly endangers overseas folks and their businesses as well as their social economic opportunities for years. Today, as time has clearly shown how these types of folks do manipulate and unethically exploit many online platforms for 'illegal hate-crimes and fraud', this subject matter was 'too new' for many people years ago to do anything as they lack comprehension – however – as it is now globally understood, it is time for Justice.

In addition to my own research, "Tourism Watch" conducted an independent investigation into this matter and have indeed verified that Trip Advisor can be easily manipulated

https://www.tourism-watch.de/en/focus/how-was-your-stay/

 

Currently my fear is that if I continue to work at GER to GER in Mongolia

(www.GERtoGER.org)

– someone will cleverly find a way to blame me for something that I didn't do to disrupt our successes/my credibility (which is very common); and possibly get me locked up abroad or worse – killed (it's not the first time as it has happened numerous times for the past decade)…

and that would definitely break my heart more than it's broken now; I'm sad to see that our USA-Mongolia business relations have been destroyed like this. Nonetheless, I can not continue to feel like the bad guy for all the wonderful works and sacrifices that I made for decades to help Mongolia and 1000s of its people – that's not how I want my history to end… 

hence, 

 

I am making this webpage Public Knowledge to disclose this information so that the "truth" may be shared and prevent any/all further harm to myself, my people, my organization and our nomadic families and their livelihoods

 

– as well as being an information resources for anyone else (around the world) who may have been victimized, is being victimized and/or believes that they are soon to be victimized; one ounce of prevention is MORE than a pound of cure.
ORGANIZED TRANSNATIONAL TRIP ADVISOR ANTITRUST
THIS IS NEARLY A DECADE LONG INVESTIGATION; CASES/INFO/ETC.
LAST UPDATED SEPTEMBER 23, 2020 – 14:30 (EAST-COAST TIME)
THIS IS A WORK IN PROGRESS – CHECK TIME CODE REGULARLY
As I have had more than a handful of life-threatening situations during the past decade – all coinciding with the duration of Trip Advisor's Corporate Fraud/Antitrust Issues  – this is another reason for this website; to leave behind proof that it wasn't NOR isn't a coincidental  "accident" NOR a "suicide" – not in the past, now nor in the future.
Sadly, as notable FRAUD EXPERTS/LAWYERS agree (online articles, cases, etc.) – Trip Advisor has HUGE set of negligence problems that are all well within the legal definition of Antitrust and Corporate Fraud. Simply, many travel businesses and professionals around the world have all suffered the same "Trip Advisor Extortion Hell" a.k.a. "The Great Hack"; with a VERY high % of all online reviews that have been exposed as being fake/extortion/libel (scammers/trolls vs businesses).  So, to protect GER to GER's nomadic families, our people and ourselves from such harm (as we've been targeted) – we have carefully investigated Trip Advisor for many years and have provided our own findings; in accordance with our Responsible Community-Based Tourism Mission.
QUICK REFERENCE MENU
(use arrows to the right)
IMPORTANT NOTES:  1) though I have provided this quick menu – please scroll to get entire contents;  2) note that BLACK BACKGROUND AREA is "KEY INTRODUCTION INFO" and WHITE BACKGROUND AREA is "DETAILED INFO"
 "TripAdvisor has a HUGE set of problems."
Saoud Khalifah, Fakespot's founder, told The Times (2018)
'One in three TripAdvisor reviews are fake…' ranging up to higher than 40+%…
other 'reports' are stating that up to 61% of all online reviews on other famed internet platforms are fake… (good/bad)
Fake Reviews are plaguing the 'Online Business Industry' from Travel Sites like Trip Advisor to even Amazon.com – where reports are stating that up to 61% of all reviews are fake… (Market Land Study) So the question is "whom to trust"? Simple, look at the business in question and see what they've done with their lives – is it in the dedication of others or merely themselves? Nobody is perfect, but if THE BUSINESS HAS BEEN HELPING OTHERS for decades – then it's an EASY decision – choose the business/people that has an established, reputable and transparent history of helping others.
Evidence of Data Weaponization and being 'Targeted'; Google Search Engine Manipulations
The usage of my full name for harassment and libel is not only 100% in violation of Trip Advisor Guidelines (of which Trip Advisor allows), but more importantly, it shows up on Google Search Engine Results thus damaging my personal/professional reputation and social economic security/opportunities; much more documentation/case studies exists that is included mid-way towards the bottom of this webpage when I show the "HOWs and WHYs" in greater detail.
Extortion, LIBEL, etc., via Trip Advisor
As childish it may seem – Cartoon Network nailed the issue with "Extortion Reviews" and Manipulation – many times this has happened at GER to GER with low budget travelers that threaten us with libelous reviews if we don't give them money for services they enjoyed.
"On Trip Advisor, anyone can write reviews anonymously. Anonymous reviews allow people to write whatever they want, without being held accountable. This opens the floodgates to manipulation." Says Mariana Madureira who does a PhD in Brazil – LINK: TOURISM WATCH
Trip Advisor's LIBELOUS EXTORTION Frauds Summed Up in 1 Photo
This is the VERY type of frauds that Trip Advisor allows to libelously post anonymously WITHOUT verifying facts; thus destroying countless good humans and their businesses in the process.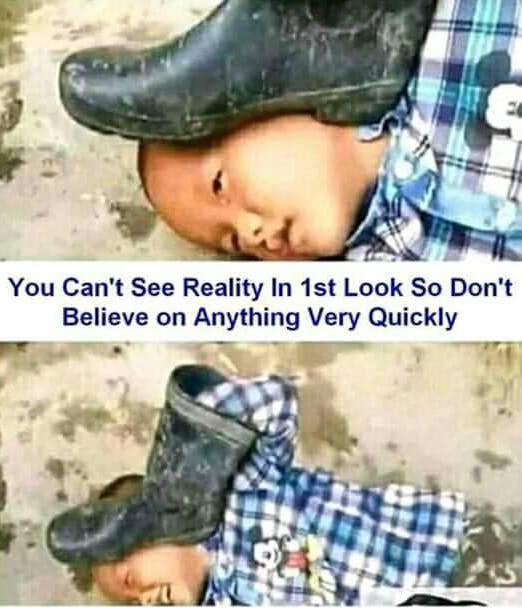 QUICK SUMMARIZATION OF MY BACKGROUND
I AM about ETHICS as both my Career and OTHER Professionals HAVE ALREADY Proven OVER AND OVER Again.
MONGOLIA'S NOMADIC COMMUNITIES ARE TAKING POWER BACK THROUGH ECO-TOURISM
"A Mongolian NGO called "Ger to Ger" is creating opportunities for nomadic communities to take power back. The organization promotes a community-based ecotourism program for visitors who are interested in supporting these communities while also ensuring profits stay within the community. They work with numerous rural residents and nomadic communities across the country to develop their capacities and skills while offering instalment loan plans to pay for necessary equipment and lodging. This program has made it possible for many families to support themselves and continue their nomadic lifestyle by hosting one or two groups of travellers each week. Eighty percent of the profit from these homestay experiences is given directly back to the families, generating needed income during the three-month tourism season in Mongolia."
A Mongolian NGO called "Ger to Ger" is creating opportunities for nomadic communities to take power back…" February 2019
I HAVE PASSED OVER 20 YEARS of INTERNATIONAL BACKGROUND CHECKS
"A CONSISTENT TIMELINE/HISTORY OF EXCELLENCE"
my reputation is important me – I've invested decades into my works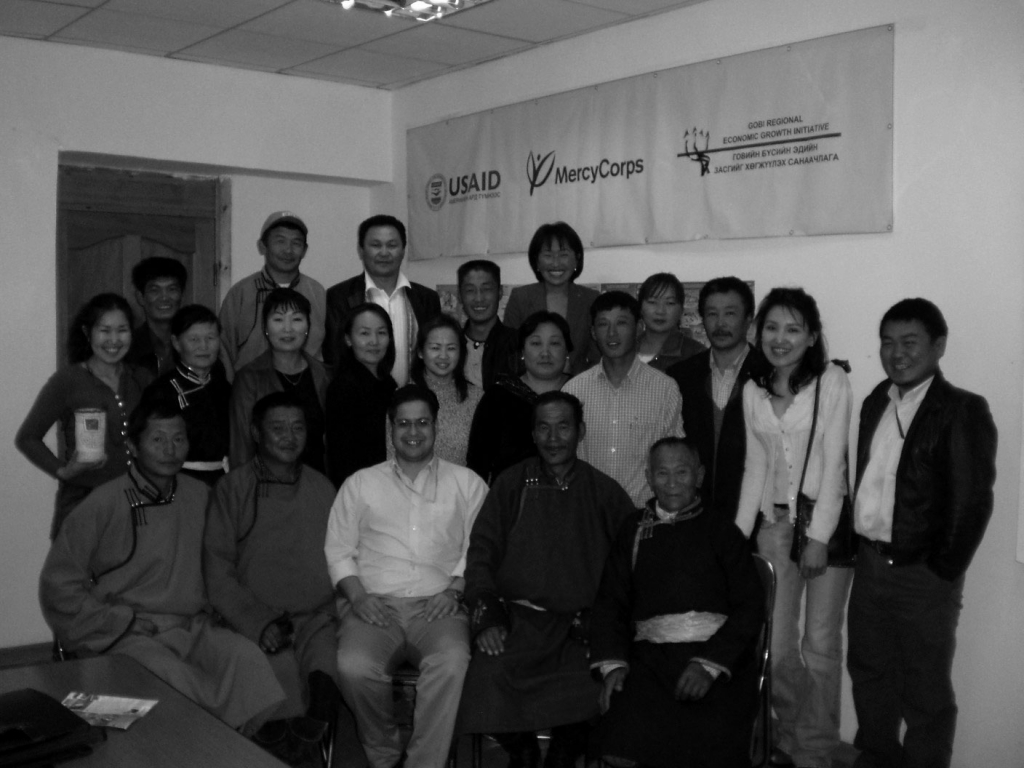 Zanjan Fromer, Founder of GER to GER,  and GER to GER have passed all USAID's Background Checks – 1999 to 2007
I have worked on/for numerous USAID Initiatives across the territory of Mongolia from 1999 till 2007, to be selected as a contractor, consultant, specialist, etc., I have to pass background checks whether it be local and/or international to be awarded contracts.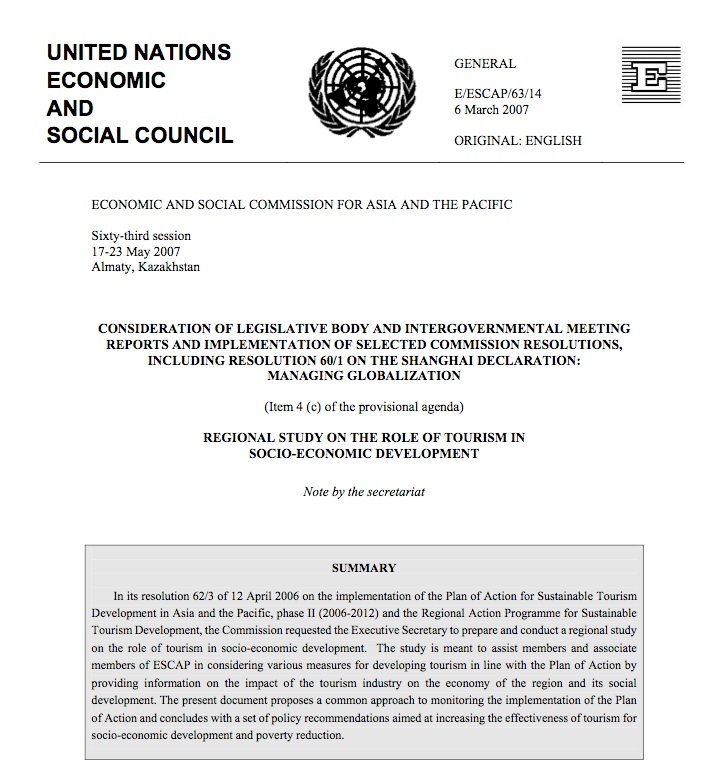 Zanjan Fromer and GER to GER passes UNESCAP's Background Check for Global Recognition of Works – MARCH 2007
Recognized by the United Nation's Economic and Social Council in an official report to the General Assembly shows from the beginning that we've been exceptionally WELL evaluated and that our social economic development works via community based tourism is EXCEPTIONALLY important to rural communities.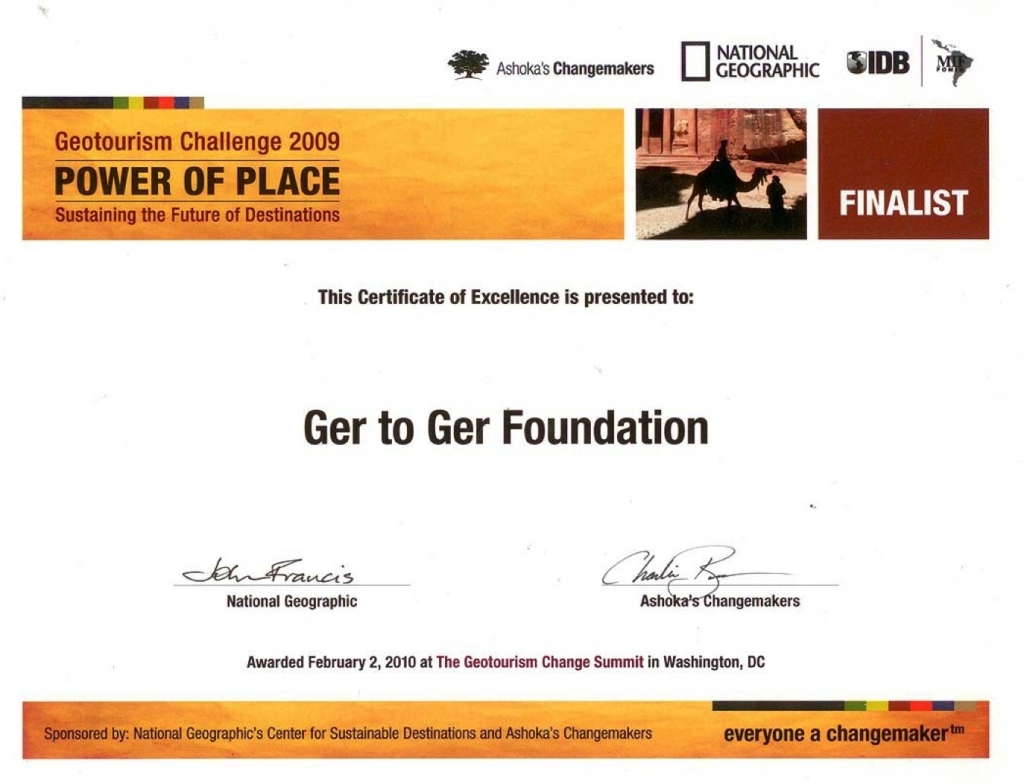 Awarded National Geographic's & Ashoka's Changemakers Certificate of Excellence – February 2010
From 100s of countries around the world – from 1000s of community based/eco tourism projects – Zanjan Fromer and GER to GER were OFFICIALLY selected into the Top 10 Global Finalist; this was a many month process (intensive background check) that ultimately led to the February 2010 NATGEO Summit held at its HQ in Washington D.C.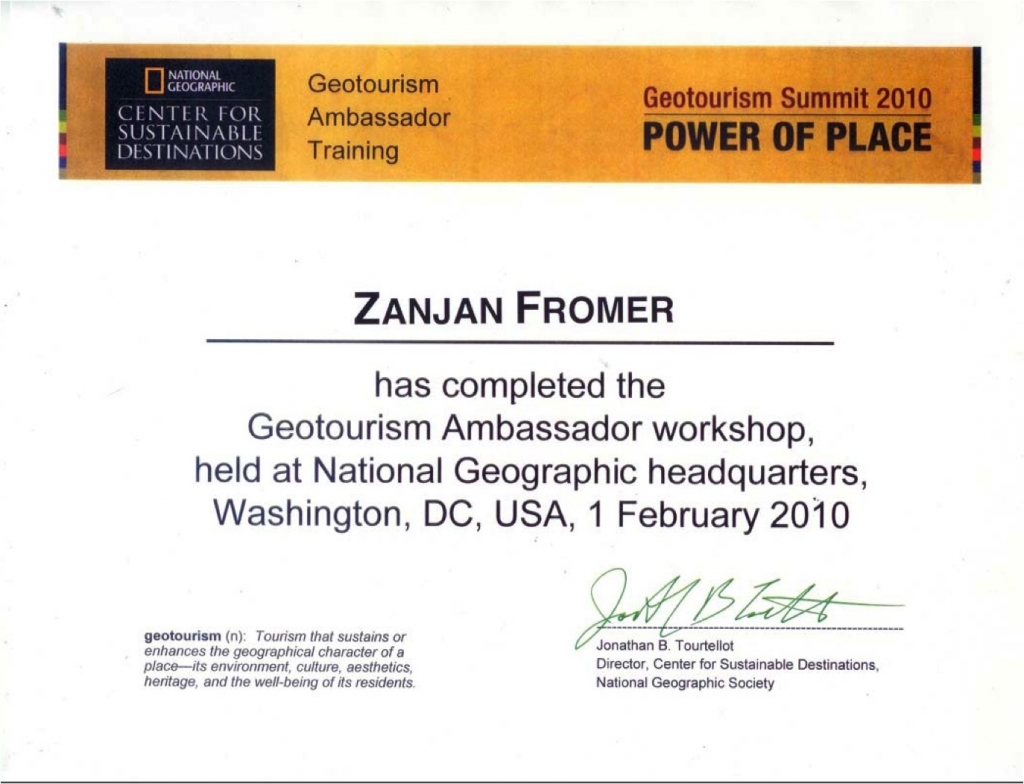 Certified as National Geographic's Geotourism Ambassador to Mongolia – February 2010
To be Awarded the National Geographic's Ambassadorship – I had to pass a VERY detailed background check – of which I passed… this in itself 100% REBUKES any/all Trip Advisor's public defamation as my career and actions have always maintained a HIGH level of Ethics.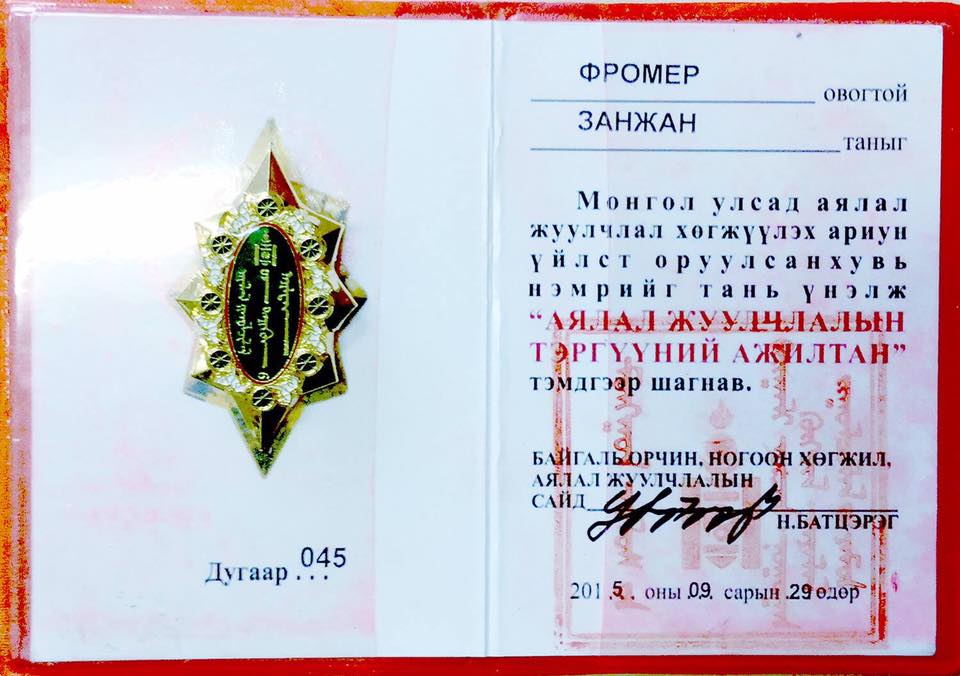 Awarded The Mongolian Government's Ministry Medal of Honor for Leadership – September 2015
To be Awarded the Ministry's Medal of Honor I had to pass a VERY detailed local background check – of which I passed… this in itself 100% REBUKES any/all Trip Advisor's public defamation as my career and actions have always maintained a HIGH level of Ethics.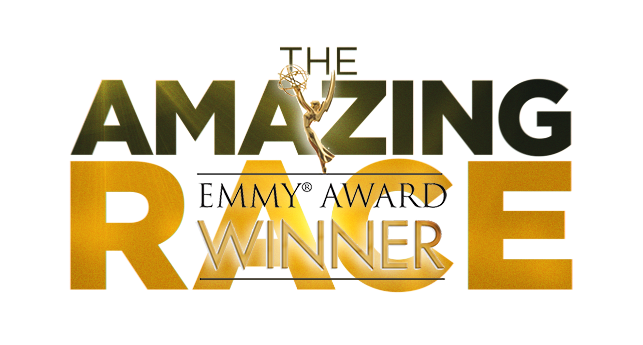 OFFICIAL COUNTRY FACILITATOR/FIXER FOR THE AMAZING RACE – USA 2006 AND AUSTRALIA 2019
OFFICIAL Facilitator/Fixer for The Amazing Race – I had to pass a VERY detailed background check – of which I passed… I have been ENTRUSTED with multi-million dollar productions – this in itself 100% REBUKES any/all Trip Advisor's public defamation as my career and actions have always maintained a HIGH level of Ethics within fast-pace multinational environs that are exceptionally testing of one's capabilities (18+ hour days, 100s of human resources to manage at once, out in the field (+40/-60, etc…) where diplomacy, resilience, tolerance, stamina, etc., are just a handful of characteristics that are just part the day-to-day job.
I have PROVEN the "goodness" of my character for over a couple decades via my "Actions" that is well HIGHLIGHTED by my career and charitable works; of which you can access all information via this website and/or via my resume
MY PUBLIC STATEMENT about
UNRESOLVED TRANSNATIONAL CRIMES VIA TRIP ADVISOR
this is definitively a "David (me/GERtoGER) vs. Goliath (TripAdvisor)" situation
"I am sincerely concerned about the exceptional level of negligence that exists within TripAdvisor concerning unresolved CRIMINAL ACTIVITIES on their Corporate Website; extremely ONE-SIDED bullying and PUBLIC defamation (libel) directed towards me (and/or anyone else) by frauds/trolls designed to create social economic deprivation without due process, due diligence, burden of proof NOR representation."
Some may ask why it's taken me so long to clear my name, mainly I tried to ignore this whole drama as there is no 'win-win' method; if I press criminal charges while abroad then they will say how terrible I am – if I don't press criminal charges while abroad then they'll still say how terrible I am… in the end – I NEVER desire to have anyone to be locked-up abroad; however, I am interested in seeking long overdue justice via the United States against those who've willfully violated a handful of Defamation Laws, Antitrust Laws, Cyber/Personal Security, etc. As I know when the public reads their libelous words, I'm sure it sounds VERY convincing – so I decided by "my actions" not to engage with them publicly for YEARS so that I can show the WORLD that after so much time that I indeed have "self-control" and the ability to maintain "my personal dignity" while I am being publicly slandered and defamed… which is contrary to what they have written about me – trying to make me look aggressive, etc. – which is not true as I have more than substantially proven that for not only the past 6+ years but more importantly my entire life (as being respectful and non-aggressive is my personality) regardless of the continuous victimization (offline/online) that was and still is directed towards me via Trip Advisor, etc., which has recklessly endangered my life, my personal security, and my social economic opportunities (to create deprivation) and successes while I was abroad on a daily basis.
"This WHOLE situation is like a BAD CAR ACCIDENT caused by the manufacturer (Trip Advisor) that didn't recall its vehicle (its easily exploited/manipulated website) and owing to its OWN faulty safety systems that weren't taken seriously by the Manufacturer (Trip Advisor) which ultimately killed and/or severely damaged countless good people and businesses – HENCE – Intentional Reckless Endangerment by the Manufacturer (Trip Advisor)" – FROMER
Trip Advisor's Mafia-Like System
Honestly, you either seek the 

"Trip Advisor Mafia Boss's Help" 

or suffer the 

consequences

 via fraudulent Trip Advisor trolling; bow to their mercy or go bankrupt.
How Trip Advisor KILLS markets via deniability… 
ME/GER to GER (DAVID) OUTPERFORMS TRIPADVISOR (GOLIATH)
"TripAdvisor via Antitrust HAS allowed fraudulent trolls (that provides TripAdvisor deniability) to destroy our Google Search Engine Rankings via allowing Public Libel to appear via "our names" on TripAdvisor – which is ultimately killing our market (as that libel is also shown on our Google Results) and allows TripAdvisor to become the Mafia Boss for Mongolia to distribute travelers via TripAdvisor's Website – MORE PROFITS for TripAdvisor (hence, Antitrust via Corporate Fraud); as we are NOT reliant on Trip Advisor sales but we are reliant on our Google Search Engine Results – as CLEARLY shown below."
On August 10th, 2020 – GER to GER continues to maintain its superior "OVERALL VISIBILITY RANKINGS (OVR 75.8%)" and easily outperforms 100 Million Dollar companies AND all of Mongolia's Tourism Industry (100s of companies) on 25+ critical Search Terms (which I can not share).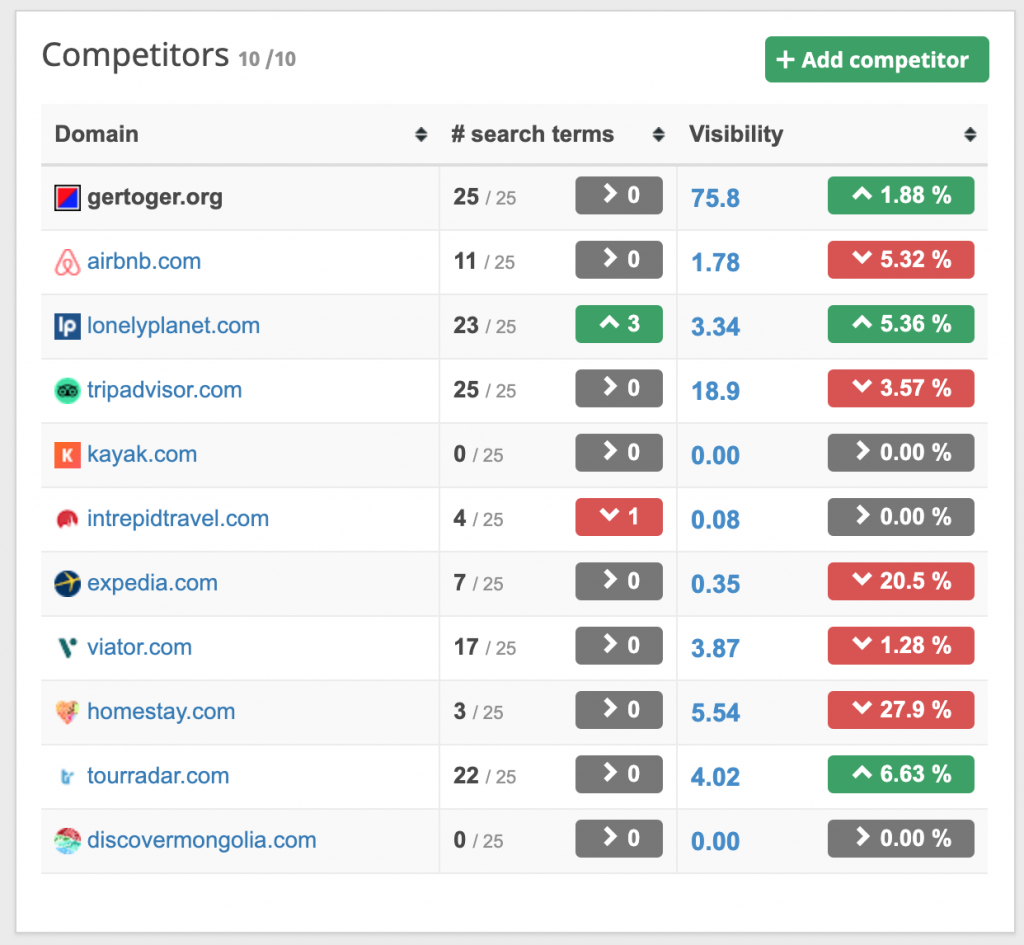 100 MILLION $ SALES PLATFORMS
100 Million Dollar sales platforms "the middle-men" are useful BUT we don't loose our identity and OUR OWN market visibility to them (that's what they want) – we focus on what distinguishes us from our competition; often too many companies follow other companies and it becomes an identity mess… sales platforms have become like "flee markets" with 1000s of competitive vendors all shouting/sabotaging each other for business – while OUR business would have to pay tens of 1000s in commissions for joint digital spaces with our competition… like a "flee market mafia tributary payment"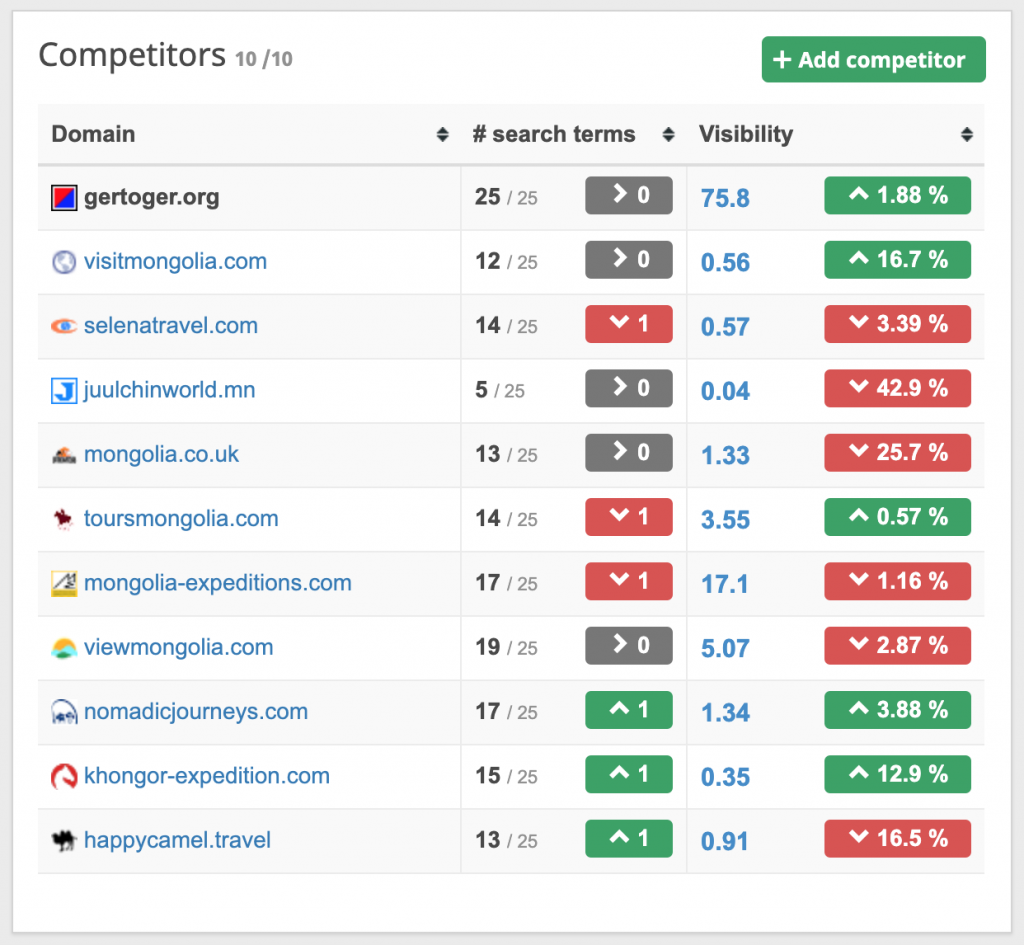 GER TO GER'S MARKET INTELLIGENCE
Market Intelligence is critical – it doesn't mean 'conquer and kill' but it allows US to better refine OUR MESSAGE in a way that drives OUR VISIBILITY to the market; we don't merely copy and do what others do hoping to succeed (as the above statistics shows it's NOT a good idea) – today it's important to develop "OUR UNIQUE BRAND" which is OUR COMPANY that stands-out from the flee market mess of sales platforms that sells us and our competitors without ever getting to know us, our operations, our people, our uniquenesses, etc… and that's THE IMPORTANCE OF OUR GOOGLE RESULTS FOR OUR WEBSITE SALES.
"GOOD PEOPLE AND GOOD BUSINESSES AROUND THE WORLD SUFFER VIA TRIP ADVISOR ANTITRUST"
TRANSNATIONAL ANTITRUST-CRIMES JEOPARDIZES SAFETY
LEARN THE PATTERNS, 
PATTERNS ARE NOT COINCIDENCES, 
HISTORY REPEATS – ANTITRUST/CORPORATE FRAUD
This section onwards will progressively show "HOW" Trip Advisor is the "GO TO" venue for fraud and criminal activities OWING to its EASY TO EXPLOIT vulnerabilities – as it is indeed a DANGEROUS tool that can be used against good people and businesses owing to its faulty safety systems as… ANY FRAUD, TROLL, SCAMMER, ETC., CAN MAKE A TRIP ADVISOR ACCOUNT VIA A FAKE GMAIL ACCOUNT; and, Trip Advisor's Guidelines DOESN'T mean anything if Trip Advisor willfully violates their own Guidelines – themselves.
Trip Advisor has ALREADY been Fined for NOT doing enough to STOP False Defamatory Reviews (2014 Antitrust Lawsuit); and, THEY still keep repeating the same Antitrust/Corporate Fraud issues till today.
Trip Advisor has a BAD HISTORY of Antitrust issues and I'd be glad to assist folks to learn more. Even if a handful of folks have opted to remove their libel (some remain) – they've already done incredible social economic damage as proven by our bookings and financial statements that are parallel with Trip Advisor's negligence.
I maintain a PDF capture of Trip Advisor website as well as the Internet Archive Database also provides references as well; they can not escape from what they've done.
Established Trip Advisor Members TEACHING Others how to LIBELOUSLY TROLL on Trip Advisor Safely
When REVIEWERS are not willing to take responsibility for what they write – then there is something SERIOUSLY WRONG… and if other members are teaching how to Safely Troll businesses and people then this has advanced into the realm of ORGANIZED TRANSNATIONAL CRIME.
I have screen captured this whole discussion as evidence.
Antitrust – From many legal explanations, these two are by far the most used tactics:
1. Boycotts within an industry to prevent competitors from entering markets;
2. Creation or misuse of monopoly power through wrongfully exclusionary means.
For YEARS (7+ years) Trip Advisor doesn't do anything. Prior to this email that was received in 2017 – I cleverly located their email address – which they don't give out. After only a few email exchanges when I started to introduce the documentation, evidence, contracts, terms & conditions, etc., Trip Advisor sent me this email and still till this day they've locked me out from being able to post on Trip Advisor via my username – they will not allow me to Ethically Represent myself… I can only access the drop-down menu which is useless as they continue to ignore. Much of that information that was being shared is also included within this webpage.
Owing to Trip Advisor's World-Wide Issues, which seems to be ongoing for over a decade, today there are literally 100s (if not 1000s) of resources, news articles, etc., to refer too… and yes, the style of writing that Trip Advisor has allowed is 100% Libel as this webpage explains thoroughly:
Trip Advisor Community Supervisor ALLOWS Libelous Trolling VIA Antitrust/Corporate Fraud FOR YEARS
100% Willful Suppression of Evidential Findings, Documentation, etc…. 
When Trip Advisor allows ORGANIZED TRANSNATIONAL CRIMES (all using the exact same Trip Advisor Thread) to plague its platform – then this is no longer just about the reviewer – this now becomes an Antitrust and Corporate Fraud issue as Trip Advisor willfully allows exceptionally damaging false defamatory reviews to remain without due process, due diligence, burden of proof NOR representation (for YEARS Trip Advisor has unethically violated their own Guidelines and have deleted my "ethical responses" backed by documentation and evidence [100% in accordance with their Guidelines] as well as disabling my ability to represent ourselves – we can not respond ethically since 2017).
Via the AFOREMENTIONED, it would seem that Trip Advisor willfully engages the following for many years:
Corporate Fraud

Antitrust

Transnational Organized Crimes by ALLOWING & FACILITATING Libel, Reckless Endangerment, etc. VIA their Corporate Website.
I maintain the entire email correspondence as well as screen captures of the entire thread – I was indeed following Trip Advisor Guidelines… hence, Trip Advisor has been caught in Antitrust/Corporate Fraud yet AGAIN; not ONLY do they not allow me to represent myself – but they continue to ensure that I am unable ethically share info by disabling my ability to post information to ensure that the very libelous public defamation remains on their website uncontested for YEARS.
As EXPLAINED further down in this webpage – those VERY people are in engaged in unlawful libel/defamation are the criminals, scammers and con-artists caught defrauding nomadic families across Mongolia and worse (we, ourselves, had to involve local police to ensure our and the local people's safety – though we never pressed criminal charges – the local police suggested that we should have). Trip Advisor gives these super #BADTOURISTS, CRIMINALS and TROLLs a voice to slander me publicly by my FULL NAME (100% against Trip Advisor's Guidelines), yet, they will not allow me to ethically share information that 100% REBUKES their false defamatory statements; hence this webpage.
KNOWLEDGE SHARING REAL EXPERIENCES – RESEARCH FINDINGS
THERE IS AN OLD SAYING: 
"THERE ARE SOME THINGS YOU CAN ONLY LEARN DURING A STORM"
FOR ALMOST 10 YEARS I HAD TO BE PATIENT
Scams, Trolls, Libel & Trip Advisor
This video "metaphorically" portrays the overall Criminal Issues on Trip Advisor & their fraudulent tactics (the methodology) with with both me a GER to GER perfectly…
Until I started to share the truth about Trip Advisor and the Criminal Libel/Scam Activities on its website… it didn't matter how cautious and courteous I was to avoid any/all BAD CAR ACCIDENTs – Trip Advisor had always promoted the fraudulent scams "as truth" to make it look like the cautious professional was/is always responsible for the accidents; which isn't the truth – hence – I couldn't remain a silent victim anymore. 
As soon as I allowed my voice to be used by rural nomadic families and communities to relay the 'real' truths with eye witnesses (factual documentation, etc.), as they can't voice themselves (no internet/they don't speak English), this ultimately made me the target for criminals that desired the truth to be deeply buried from public knowledge. Mainly from 2010-ish till 2016-ish, they've actively tried to silence me via fraudulent libelous reporting and online defamation on Trip Advisor; and unfortunately owing to Trip Advisor's negligence, they have willfully allowed the Scammers/Criminals/Trolls to publicly attack a VERY CAUTIOUS PROFESSIONAL. So after GLOBALLY exposing this "con" to many agencies/authorities/businesses/etc – from 2017 till today there has only been 1 or 2 that have attempted to exploit this scam; generally it's all good now except for having to clear my name from some outdated fraudulent reviews made by those that were caught engaging in criminal activities abroad. YES we called the police but we didn't press any charges against them. Those criminals are the ones that generally plague Trip Advisor till today with their VERY outdated libelous posts. 
2018 "FIRST-EVER" GER to GER Trip Advisor Business Account Launched
To prove to Trip Advisor just how wrong all the prior libelous statements were/are – I established the "Official" GER to GER Trip Advisor Page and asked travelers to share their experiences… The results were as I expected – AS ALWAYS WE DO AWESOME WORKS!
Despite one or two frauds, the majority of global travelers, have clearly shown a well establish pattern ["NORMAL OPERATIONS"]: 1) they are all well informed 2) they all know what to expect 3) they all appreciate both me and my staff 4) they all greatly enjoy their nomadic experiences along their community based tourism routes 5) there are NO issues like how the scammers try to fraudulently report 6) 
etc., etc., etc… AND DESPITE the travelers CLEARLY EXPLAINING the real situation – Trip Advisor still willfully allows the fraudulent defamation to exist on their website. Hence, Trip Advisor has serious internal issues in relation to their 'faulty safety systems' to prevent reckless endangerment of good people and businesses of which I will explain via this webpage. 
Lastly, which is EXCEPTIONALLY important – Trip Advisor doesn't properly capture "the reality" e.g. our exceptional health and safety record, the countless times that I have rendered emergency assistance that saved people's lives (owing to travelers' carelessness), prevented numerous groups of travelers from being injured or worse when pinned-down during natural disasters/lightening storms/floods/etc… YES indeed, Trip Advisor DOES NOT accurately provide proper context – the fact is – Trip Advisor has never properly represented 99.99% of our operational SOP nor our successes until I took proactive actions; nor has Trip Advisor highlighted our incredible level of Social Responsibility, Financial Equity for the Marginalized/Poor, Fulfillment of the United Nations SDGs, etc.
DETAILED INFORMATION AREA; MY BACKGROUND, GER TO GER AND REAL TRIP ADVISOR CASE STUDIES
FIRST AND FOREMOST, AS MANY ISSUES ARISE FROM MISINFORMATION – LET ME SHARE SOME DETAILED INFO ABOUT "ME"
Firstly, I am a well known and respected international film industry specialist for Mongolia… I have a long history of credibility.
Secondly on a more personal note… 
I'm NOT racist (though kindly note that I am not Iranian), I have NO intolerance of people of different religions (though kindly note that I am not Muslim) NOR do I judge anyone based on their social and political beliefs – I'm Apolitical Moderate (I support both Liberals and Conservatives, AS A NON-PARTISAN, in their efforts towards a better United States of America / I'm NOT a communist NOR a socialist NOR a marxist NOR a fascist, etc.); hence, my heart and mind has always been open to those that are not ignorant and hateful of others (I'm soooo not aggressive by any measure). I strongly believe that women are equal to men – and though I am NOT gay NOR bisexual (I'm 100% Heterosexual male Alaskan THAT IS respectful to the importance of women) – if you respect me for who and what I am, I'll respect you as well… HOWEVER, as I don't broadcast to world what I do in my bedroom and I'd appreciate it if you do the same; my personal interests in people are limited to my standards – I'm not anti-social – I'm selectively social. I have spent most of my life helping the marginalized and poor to succeed via countless social economic development initiatives as well as via film/TV exposure, etc… More can be researched via my websites as YOU will see that I have a HUGE HEART – otherwise – why would I do all the works that I do to help others for almost no salary?! EXACTLY, I HAVE A HUGE HEART!
www.Zanjan-Fromer.com | www.GERtoGER.org | www.AlaskanRoutes.com | www.Responsible.Tours | www.lastLIFEline.org
Thirdly, I am a well known and respected Social Economic Development Specialist for Mongolia…
GER to GER's Living Like a Local &
Nomadic Homestay Trails are
100% Nomadic "REALITY" Experiences
THIS IS A SHORT-LIST OF HOW BOTH GER TO GER (VIA COMMUNITY BASED TOURISM) AND I HAVE SUPPORTED THE UNITED NATIONS MDGs/SDGs FOR OVER 15+ YEARS AS A PART OF OUR ORGANIZATIONAL SOP ("WE CARE")
GER TO GER'S NOMADIC EXPERIENCES (Live Like a Local, Nomadic Homestay Trails, etc.) ARE 100% about being GOOD HUMANS and experiencing THEIR nomadic realities via old school travel that is community based tourism
(kindly note that we do offer fully packaged high-end tours and expeditions for those that desire a vacation)
KINDLY NOTE THAT ALL NOMADIC FAMILIES PROVIDE: 3 hearty meals a day, unlimited teas and drinks, NOMADIC GERS (shelters), tons of geographical/cultural observational opportunities (as we instruct), HORSES/OX CARTS/ETC., AND GUIDES…  JUST FOR A FEW HUNDRED DOLLARS (for an average of a week) BUT as you will read in the next section – NOT ONE OF TRIP ADVISOR SCAMMERS MENTIONS THIS – THEY WANT TO INTENTIONALLY MISLEAD YOU INTO THINKING THEY ARE PAYING $1000S… 
I have traveled the world countless times – visiting all destinations (across the EU/ UK/ NORWAY/ SWEDEN/ GERMANY/ SPAIN/ SWITZERLAND/ ROME/ FRANCE/ GREECE/ TURKEY/ UK/ USA/ ALASKA/ CANADA/ Etc.) – GER to GER's Nomadic Experiences (no matter how raw and adventurous they can be) are still 'top tier' experiences. There is NO PLACE ON PLANET EARTH that will let you experience as much as you can for only a few hundred dollars (for a week!) that includes all the aforementioned service and more! When you know you are ONLY paying a few hundred dollars – YOU KNOW that what you are paying for is a 'value for money experience' and not a fully packaged expedition NOR tour; common sense folks – but we also provide tons of information before/during to properly prepare everyone (emails, online/offline info, 2 hour trainings, Q&As, terms & conditions, etc.).
For Decades Rural Nomadic Families were seen as backwards, uneducated, easily exploited, marginalized, below the poverty line, etc… That's when I SET OUT TO ESTABLISH CHANGE VIA GER TO GER; GENERATE EQUAL OPPORTUNITIES and MORE.
COMBATTING RACISM & SOCIAL ECONOMIC DEPRIVATION VIA EDUCATION AND "REALITY EXPERIENCES", etc.
"We WANT the Nomads to be TRUE to themselves and NOT what travelers' expect them to be – that's the whole point of GER to GER's Live Like a Nomad with Nomadic Families (REALITY Experiences) – and the KEY to LONGTERM SUSTAINABLE LIVELIHOODS"
WE DON'T HIDE THE REALITIES – BUT RATHER – WE'VE ALWAYS PROMOTED IT TRANSPARENTLY; in fact on our website, in our marketing, via emails, during the 2 hour trainings, terms & conditions, etc., we've ALWAYS stated that any/all Nomadic Experiences' itineraries are subject to immediate change at the will of the local people and nomadic families. As it's about "REALITY" – weather, culture, day to day routines, travelers' safety, nomadic families' safety, etc., will and may directly influence the Living Like a Local Nomadic Experiences (any/all trips with nomadic families) and they (the locals/nomadic families) have 100% authority to make any change necessary without informing us at GER to GER. We've ALSO clearly stated that there will be different types of nomadic families: 1) energetic nomads that will actively spend time with travelers, 2) shy nomads that travelers will have try to kindly engage the nomads as well as 3) traditional nomads which means travelers need to respectfully observe and/or go out for hikes and treks, etc., as they are not jaded nor rude – they are traditional (by their culture they just want travelers to rest/eat – if travelers try to engage them they may indeed ignore the travelers.)
Local Living vs Packaged Trips | Expectations – Prices, Itineraries, etc. | Trip Suitability | What to Know About Homestays | Terms and Conditions
HERE IS THE SHORT-LIST OF THE MORE…. THE UNITED NATION'S SUSTAINABLE DEVELOPMENT GOALS THAT WE OPERATIONALLY SUPPORT:
SDG 1 – NO POVERTY: 80% of Humanitarian Trips' a.k.a. Live Like a Nomad's finances (per person – so if there are 4 travelers then it is 4×80%) are returned to rural nomads, drivers, etc.; 20% towards rural communities' marketing and workshops.
SDG 2 – ZERO HUNGER: We have/continue to employ nomadic families who are the poorest of the poor.
SDG 3 – GOOD HEALTH AND WELL-BEING: trainings on health/safety/reduce sanitation illnesses (Hepatitis, etc.); incomes for medical insurance, visits, medication, surgeries, etc.
SDG 4 – QUALITY EDUCATION: Via workshops/incomes nomadic adults/children are receiving education via workshops (locals/internationals), schools, high schools and universities. 
SDG 5 – GENDER EQUALITY: Over 70% of our national managers are women; rurally, women care for travelers' family experience (food, drink, etc.) while men generally guide (though some women guide). 
SDG 6 – CLEAN WATER AND SANITATION: (TRAINING/OPERATIONS) 1) nomads/travelers – "Leave No Trace" 2) waste management to mitigate watershed damages along routes, etc.
SDG 7 – AFFORDABLE AND CLEAN ENERGY: assisted all nomadic families to obtain savings accounts across Mongolia – credit histories used for financial services/small-loans to procure solar/wind powered units. 
SDG 8 – DECENT WORK AND ECONOMIC GROWTH:  Social economic development via tourism while combatting negative aspects of open market growth.  Over 90% of HR are rural; via "Geotourism" we strengthen rural supply chains. 
SDG 9 – INDUSTRY, INNOVATION AND INFRASTRUCTURE:  "GER to GER" is the Mongol Empire's ancient "kinetic supply chain" – today this ancient supply chain advances Mongolia's social economic aspirations. 
SDG 10 – REDUCE INEQUALITIES: In addition to financial equality, SDG initiatives in Mongolia and abroad – for the last 6+ years we've been tracking, mapping, countering, etc., a variety of "inequalities" from Asia to EU to mitigate home-grown issues across multiple countries/internet-platforms.
SDG 11 – SUSTAINABLE CITIES AND COMMUNITIES:  GERtoGER meshes "kinetic" and "static" supply chains into itineraries, products, etc., towards advancing social economic development. GERtoGER's founder has spent 23+ years assisting Mongolia through its post-Soviet transitional development (tourism, meat, cashmere) – first USAID funded "The Competitiveness Initiative". 
SDG 12 – RESPONSIBLE CONSUMPTION AND PRODUCTION: 1) travelers are trained on "subsistence nomadic lifestyles, traditions, history, etc." 2) nomadic tribes are provided with cashmere-alternatives owing to overgrazing issues (sharp increase in goat numbers); sustainable eco-incomes vs. land degradation incomes that impacts nomadism, livestock, GDPs, nature/environment.
SDG 13 – CLIMATE ACTION: We have conducted Nomad Relief Efforts during climatic disasters; films, media pieces, awareness campaigns, etc. 2) We established networks 'that can' monitor trends (goats, desertification, watershed situations, weather impacts on land degradation, etc.)
SDG 14 – LIFE BELOW WATER: Via workshops all herder/travelers are trained about the importance of water resources in relation to mitigating waste related issues, etc. Though Mongolia may not have oceans – the quality of Mongolia's watersheds are vital to nomadic populations throughout the country. Mr. Fromer assisted USAID Gobi Initiative's "Watershed Monitoring" program works as the quality of the watersheds directly impacts Mongolia's GDPs (cashmere, meat, tourism) as nomadic families are the core "node" of all three industries.
SDG 15 – LIFE ON LAND: Via workshops herders/travelers are trained about the importance of land resources in relation to mitigating waste related issues, watershed impacts on land quality, weather/climatic degradation of land, etc., in addition to serious issues pertaining to overgrazing, etc., GER to GER has established nomadic networks 'that can' monitor such remote concerns (GDP concerns).
SDG 16 – PEACE, JUSTICE, AND STRONG INSTITUTIONS: We promote the UN's UDHRs within Mongolia, social media, etc. Mr. Fromer encourages all countries to "maintain the peace" via making the general public aware of social-issues (extremists, oppression OPS, racial hate CRIMES, etc.) that may indeed hinder social economic development. 
SDG 17 – PARTNERSHIP FOR THE GOALS: Via social media networks (Facebooking, Twitter, etc.), partners, donors, etc., we proactively expand our initiatives.

"Responsible-Tours.org" established by GER to GER and the Founder, this new Initiative is being launched by "The Global Practitioners" to assist International CBTs, CSR Initiatives, alternative community travel networks and Geotourism Initiatives
"LastLifeLine.org" under the GERtoGER Foundation this new Initiative aims to match Global Issues of the aforementioned "MDGs/SDGs" that require exposure to better link with like-minded organizations.
Responsible Travel Notes: 
* All Humanitarian Trips and Homestays are 100% "Reality Trips" that are managed and operated by locals and nomadic families; GER to GER Office operates ONLY AS A Humanitarian "Travel Agent" for communities (these are non-tour experiences – though we do offer expeditions and tours).
* GER to GER humanitarian trips is about "Reality" – real families, real lifestyles, real situation, etc. (who are the Mongols? And not about our expectations).
* GER to GER humanitarian trips are not an amusement park experience – it's about awareness/respecting nomadic lifestyle and learning "their ways" (not ours), etc.
* GER to GER is an opportunity for people to learn how to integrate within other cultures vs. other cultures catering to our international norms and standards that we have become overly accustomed too and demand others to adhere too (like paid entertainment slaves).
* GER to GER has generated over a Million USD towards Mongolia's social economic development via supply-chain synergies and provides over 80% of its revenues toward rural nomadic families that greatly need this alternative income source.
FOURTHLY
, I HAVE NO CRIMINAL RECORD OF ANY KIND ANYWHERE ON PLANET EARTH.
"THROUGHOUT MY ENTIRE LIFE –
NO ASSAULTS OF ANY KIND & NO CRIMINAL RECORDS"
Now that I am back in the United States for awhile… I will be taking care of some past online slander (towards me) that I haven't been able to properly address for years owing to working abroad.
The last I checked – public slander, defamation, libel, etc., to intentionally recklessly endanger other humans (physically, emotionally, mentally, social economically, etc.) is indeed not only against Trip Advisor Guidelines BUT MORE IMPORTANTLY it's illegal… and when a company and/or its employees willfully VIOLATE the laws by violating their own company policies to give unethical advantages to others (frauds, trolls, etc.) – well that's the text-book LEGAL definition of "Anti-Trust" and "Corporate Fraud".
NOW ON TO…
TRIP ADVISOR ENGAGES IN RECKLESS ENDANGERMENT?!
Trip Advisor is Willfully Allowing Criminal-Misuse of Their Platform for Public Slander and Abusive Defamation (for 6+ years); EVEN If I haven't yet Pressed Criminal Charges Against Anyone; the Local Police Desired Me to Press Criminal Charges – but I didn't.
100% owing to Trip Advisor (overall company website) and its Employees (Community Supervisor – Jane, etc.) willful negligence (April 25, 2017) – as she has stated that she doesn't have to read anything I send her by email (documents proving how wrong the libel statements are/my innocence), this situation has never been properly resolved nor deleted from their website. Please note that I maintain all records (emails/internet screenshots/wayback internet archive, etc.) that proves that I have 100% acted in accordance with not only with Trip Advisor's Guidelines but more overly in accordance with any/all local laws… this was TripAdvisor/Jane's way to unethically continue on with the unlawful vortex that has ultimately lead to years of reckless endangerment of my "personal/social economic" safety abroad via Trip Advisor's willful negligence by allowing slanderous libel to remain on Trip Advisor's website unlawfully… as Trip Advisor/Jane was violating their own guidelines – as my personal FULL NAME (besides our humanitarian organization "GER to GER") continued to be fully abused for public defamation as well as offline/online harassments/etc., for years without anyone providing any "Burden of Proof", etc; hence, Trip Advisor's incredible level of operation negligence via the lack of fact-finding, due diligence, due process, fairness, etc… Even if I acknowledged that I've always followed the Guidelines but proceeded to explain the situation again to her/anyone else at Trip Advisor – as I will not self-incriminate myself for violations that I did not commit (as I have all documentations/ emails/ etc.) – it was after this they always abruptly discontinued communications with me as their "Corporate Fraud" tactic did not/would not/will not work with me. OWING to Trip Advisor allowing this Slander to remain on their website for so many years – I am now releasing this information for lawyers to review as well as the public in hopes that my name will be cleared soon from any/all further unlawful public slander and harassments; as I maintain all evidence of Trip Advisor's incompetence and lack of due diligence/lack of due process/willful violations of their own guidelines and a variety of legal violations as well.
HERE'S THE DOCUMENTED EVIDENCE OF TRIP ADVISOR'S "WILLFUL NEGLIGENCE"
TO ENGAGE IN "RECKLESS ENDANGERMENT & PUBLIC ABUSE" via
LACK OF SAFETY PROTOCALS a.k.a. CORPORATE FRAUD & INTENTIONAL 'ANTI-TRUST' VORTEXing 
(NOT WILLING TO SOLVE ISSUES RAPIDLY – after YEARS of working on this matter – this was received on April 2017 and still till today nothing has been done.)

WHO'S REAL? WHO'S FAKE? WHO's A FRAUD?
TRIP ADVISOR DOESN'T KNOW!
ANY FRAUD CAN MAKE A TRIP ADVISOR ACCOUNT for LIBEL
 VIA A FAKE GMAIL ACCOUNT
THE SAD REALITY #BADTOURISTS
In all honesty, if these folks would have read the Terms & Conditions, online/offline informations, contracts, training materials, etc., etc., etc.

MANY OF THEIR ISSUES – WOULD HAVE NEVER BEEN AN ISSUE –

WITH MOST PRE-BOOKED TRAVELERS – GER to GER HAS 13 LEVELS of VERIFICATIONS to COMMUNICATE & ASSIST TRAVELERS

13 Levels of Verifications TO ASSIST & COMMUNICATE as well as give opportunity to travelers to comprehend and/or change Nomadic Experiences with upgraded tour and expedition packages:

Online access

to "what is GER to GER", "how does GER to GER operate, etc."

Online access

to Information about the differences between 

"Humanitarian Reality Trips" and Packaged Trips, etc.

Online access

 to 

"Terms and Conditions" of Humanitarian Trips

Correspondences

with GER to GER staff by emails; Q&A, etc

Upon arrival in Mongolia

– all travelers receive a mandatory 2 hour training workshop; 

Professional Humanitarian Liability Trainings are conducted by an International Specialist with over 22+ years of Professional Expertise throughout Mongolia including extreme environs (-50 plus degrees expedition/production works, etc.) and Abroad; Internationally Awarded, Recognized by National Geographic Society, Recipient of Mongolia's 2nd Highest Medal of Honor – The Ministerial Gold Star of Leadership, etc. These Humanitarian Training Workshops cover:

contracts; terms and conditions; liabilities; assumption of risks; humanitarian 101; outback to international social economic supply/value chain analysis and mapping; country info; history and important highlights; customer vs. cultural service; DOs and DON'Ts; cultural and cross-cultural analysis/studies; nomadic lifestyle; "Leave No Trace Travel" – environmental protection; activity health/safety – horseback, trekking, etc.; wildlife awareness – wolves, snakes, insects, etc.; extreme situational "survival 101" in relation to weather, terrains, navigation (sun, terrain, vegetation, geographical terrain vectoring, etc.), physical, mental and medical; risk mitigation/management; emergency COMMs methodology; itinerary confirmation; language; and more.)

At the workshops

all travelers are updated with current weather, culture, etc., information that may influence their trip and are informed rural nomads have the "power" to change the trip when necessary; transparently listed on the Terms and Conditions owing to their lifestyles

At the workshops

all travelers are educated the difference between "cultural service" vs. "customer service" and so much more to ensure that they are fully aware that they are traveling as humanitarians and not as "tourists" on a vacation.

At the workshops

 all travelers AGAIN review 

Humanitarian Trip's Terms and Conditions

At the workshops

all travelers review GER to GER disclaimer with Instructor

At the workshops

all travelers are provide an opportunity to change their trip/minds

At the workshops

 all travelers CAREFULLY REVIEW AND SIGN the "Assumption of Risk Contract"

that includes weather, culture, lifestyle, 3rd Party Suppliers, etc., in relation to Humanitarian Trip's Terms and Conditions

; on website, handbook, etc.

After signing

the Assumption of Risk Contract

all travelers make final payments

After contract signing

, workshop and payments

– all travelers are invited to contact us again for further info clarifications prior/during their Reality Humanitarian Trip (via nomadic families mobile phones).
Metaphorically these are a good representations of the emotional and mental state of most scammers… though they often behave 10x worse in our office.
"It's really like telling folks (for months) before arriving, and while they are at the restaurant, that they are indeed purchasing water and not to expect a "full course meal". Nonetheless, they ignore all informations and still order water and get angry about only having water afterwards  (then proceed to attempt fraud/defraud/disruption of the peace/etc.) – to which after not being successful and asked to leave the the business property they then go online to slander innocent people and the establishment unlawfully – to force the establishment to loose its markets, go bankrupt and innocent people become unemployed."- to which all of these CRIMINAL ACTIVITIES are being knowingly allowed on Trip Advisor by Trip Advisor without any fact-finding, due diligence, due process, etc.
These are EXACTLY the Types of Bad Tourists who Write LIBEL on Trip Advisor that Damages our Reputation/SOCIAL ECONOMICS THAT they Allow
Even if we spend weeks and possibly months explaining via emails "OUR MENU" before they arrive, followed by a 2 hour training in our office explaining "OUR MENU" carefully, Q&As, etc., a handful of scammers intentionally try to make VERY public scenes (offline/online) like this woman this so they can accuse us of be 'racist' or difficult, etc., via Trip Advisor to damage our reputations owing to "their" ignorance; and or lies/stories that they intentionally make up to spitefully create an inconvenience to the establishment and its workers.
Criminals know when then have been caught – there's only one tactic left in order to escape a public crime-scene "Make Public Confusion"; Trip Advisor has been that criminal Escape-Venue for many years.
LETS TAKE ALL THESE FRAUDS to A FBI FIELD OFFICE or INTERPOL and HAVE a 'POLYGRAPH TEST' TAKEN 
NONE OF THESE PEOPLE WILL PASS as THEY ARE ALL

FRAUDULENTLY CHANGING THE REAL NARRATIVE

TO FIT THIER FRAUDULENT/UNLAWFUL ACTIVITIES TO GIVE THEMSELVES & THEIR ILLEGAL PUBLIC LIBEL CREDIBILITY
GER to GER's Living Like a Local &
Nomadic Homestay Trails are
100% Nomadic "REALITY" Experiences
GER TO GER'S NOMADIC EXPERIENCES (Live Like a Local, Nomadic Homestay Trails, etc.) ARE 100% about being GOOD HUMANS and experiencing THEIR nomadic realities via old school travel that is community based tourism
(kindly note that we do offer fully packaged high-end tours and expeditions for those that desire a vacation – HOWEVER – none of the following frauds purchased a "TOUR" owing to their lack of finances, etc.)
What I am about to share IS NOT slander – these folks have already slandered me for 6+ years on Trip Advisor – I am merely exercising my right to rebuke their fraudulent remarks, etc., in accordance with most domestic and international laws as well as in accordance with UN Universal Declaration of Human Rights. After almost a decade of these folks recklessly endangering my life overseas – jeopardizing my personal security, my personal wellbeing, my social economics, etc., as well as jeopardizing my life on numerous occasions via stirring up local nationalists and extremists… let's get to the bottom of this! 
HOOK THEM ALL UP to a Polygraph!
 (I ONLY provide situational information online/offline in lines with 'ethically' protecting our UN SDGs Initiatives (1 through 17) as well as our UN's Universal Declaration of Human Rights Articles 1, 2, 3, 5, 7, 8, 9, 11, 12, 13, 18, 19, 20, 21, 22, 23, 24, 25, 28, 29, 30; as our overseas humanitarian works were/are/still exceptionally important to 100s of rural nomadic families, etc.)
It is EXCEPTIONALLY important to note THE FOLLOWING as it is all part of the OVERALL CONTEXTUAL NARRATIVE that they are not reporting on TripAdvisor; but rather their focus is MAINLY on

FORCING

a "tour-like itinerary narrative" (false narrative as they all purchased NON-TOURS/Live Like a Local Nomadic Reality Experiences) and

abusively

attacking me

in the process as I was the one that unraveled their scams 
(Hence they all use the same TripAdvisor Thread – it's organized bullying/harassment/etc., that manipulates Google Search Engine (SEO) Results to VINDICTIVELY damage both GER to GER and my own personal reputation, social economic security, etc., that TripAdvisor is willfully allowing)
* Scammers DO NOT state they were on a "Low Budget Humanitarian Trip"; they all intentionally misled people to think they where traveling on Packaged Vacations.

* Scammers DO NOT state they state that they only paid $200-$350 USD for an average 7 Day "Humanitarian Trip" (you can't pay that amount for 1 or 2 days "all inclusive" in Paris, Berlin, UK, etc.) that includes:

1. BUYING bus tickets on the travelers' behalf,

2. COORDINATING rural jeeps on the travelers' behalf,

3. nomadic accommodations in a Ger/Yurt,

4. three LARGE nomadic meals a day with unlimited drinks,

5. a nomadic guide that would travel every day 20+ kilometers with them and 20+ kilometers back home (averaging 40+ kilometers per day),

6. horses and camels to ride and with ox carts that carry travelers' luggages (backpacks, etc.) for safety and comfort,

7. traveling across Mongolia's most pristine and off the path locations,

8. never being rushed like standard tours but rather allowed TONS of FREE TIME to stop, explore, walk, trek and even have picnics!

9. etc.

* Scammers DO NOT state they state that GER to GER Office and Rural Nomadic Families INTENSIVELY took care of their well-beings professionally and that they were:

1. Provided FREE CONSULTATIONS on Mongolia travel that sometimes took hours; maps, travel routes, plans, budgeting, transportation methods, etc.

2. Professionally trained in humanitarian 101; outback to international social economic supply/value chain analysis and mapping; country info; history and important highlights; customer vs. cultural service; DOs and DON'Ts; cultural and cross-cultural analysis/studies; nomadic lifestyle; "Leave No Trace Travel" – environmental protection; activity health/safety – horseback, trekking, etc.; wildlife awareness – wolves, snakes, insects, etc.; extreme situational "survival 101" in relation to weather, terrains, navigation (sun, terrain, vegetation, geographical terrain vectoring, etc.), physical, mental and medical; risk mitigation/management; emergency COMMs methodology; itinerary confirmation; language; and more.).

3. Provided FREE luggage storage for weeks in the GER to GER Office.

4. SAFE and well looked after; mountains, deserts, etc.

5. SAFE and NEVER had an injury due to negligence; horseback riding, camel riding, etc.

6. Provided plenty of opportunities to PROACTIVELY participate in the daily life of nomadic families; just jump in and participate, etc.

7. Provided plenty of opportunities to use the family as a base camp; to go hiking, trekking and exploring the surrounding areas.

8. Provided plenty of food and drinks; generally sometimes it's more than 3 meals a day.

9. Provided plenty of time for rest and relaxation; nomads love it when travelers take it easy.

10. Provided plenty of COMMUNICATIONS ACCESS to contact GER to GER; we make sure that if travelers are confused/etc., that they are able to contact GER to GER Office via the nomadic families mobile phones to which we clarify and communicate the situations so that the nomadic families and travelers have clarity if required.

11. etc.
COMMON THEME WITH ALL
BAD TOURISTS, FRAUDS, CONS, SCAMS;
TripAdvisor/Google's Fraudsters MO
Disrupt (Defraud, etc., via Confusing the Situation), Deflect/Discredit (The Truth),  Deny (Any/All Liabilities)
THEY don't listen to instructions, THEY don't read their itineraries/contracts/terms & conditions/etc., THEY intentionally maintain 100% the wrong type of Expectations even after emails/website info/2 hour trainings/Q&As/etc., THEY have very short tempers (most have anger management issues and often "disrupt the peace" in our office with their loud dramas while we are busy with other clients – a quick "extortion/defraud" tactic), THEY force their false-narratives (not reality) AND THEY ALL engage in Fraud, Extortion and/or Public Libel on TripAdvisor
Now let ME address A HANDFUL of the "FAKE, FRAUDS, TROLLS & CRIMINALS" so that YOU can get the point… 
 IMPORTANT NOTE: WE all know that when they post on TripAdvisor – they all write as unsatisfied "TOURISTS"; the Product THEY ALL purchased is not a "tour" they are "REALITY" experiences (humanitarian) that aims to show "the different realities" and not some touristic-entertainment. All Living Like a Local Nomad "REALITY" itineraries are 100% subject to change by the nomadic families, as it's community based tourism, and that's stated all throughout out our website, contracts, terms and conditions, trainings, etc. WE carefully explain this aspect everywhere prior to traveling with Nomadic Families and as to why they require that type of flexibility is necessary; weather, culture, day to day works, etc. THIS is not anything new – this has been our mandatory "Standard Operating Procedure" (SOP) upon which GER to GER was established on June 5, 2005. These Frauds desire to change our SOP via their writing thus to give their defraud/extortion and fraudulent libel justification/credibility – that action alone in Contract Law is illegal – and owing to TripAdvisor's Antitrust Issues and Negligences, these frauds have been allowed to establish their criminal safe-haven within TripAdvisor without any regulation, fact-finding, verification, burden of proof, etc., WHILE TripAdvisor intentionally shuns & deletes any representation of the truth by the victimized (me and GER to GER); hence the development of this webpage.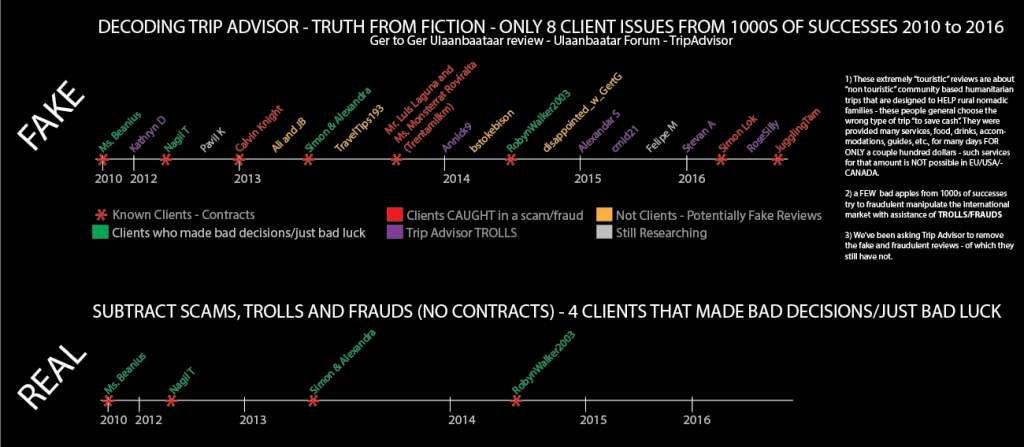 Owing to Trip Advisor's Willful Negligence and Lack of Due Diligence – They Don't know Who's Real, Who's Fake and Who's a Fraud; However, I know as I have ALL the contracts, documentations, etc. – I've tried to share this information but Trip Advisor doesn't want to read NOR review anything I send… 
Generally TripAdvisor's frauds, scammers and trolls' MO/SOP is to intentionally hijack Threads (which TripAdvisor allows) that seem normal and nice; as southerners say, "it ONLY takes 1 person to throw a COCKROACH in the punch-bowl to make the most tastiest drink undrinkable" (slightly modified for the public):
REAL CASES & EXPLANATIONS
Disturbing the peace, extortion, fraud, defraud, organized transnational hate crimes (public defamation, organized harassment, etc.), etc…
RECKLESS ENDANGERMENT
THE PARASITICAL BLOGGERS'
LIBELOUS SMEAR CAMPAIGN
TRIP ADVISOR SCAM 
Tabitha Roman ( FreshCoffeeStains.com ) – Fraud, Libel & Reckless Endangerment
Let's have the FBI or INTERPOL "POLYGRAPHY" Tabith Roman
CONCERNING "TABITHA ROMAN" OF FRESHCOFFEESTAINS.COM – A PARASITICAL BLOGGER A.K.A "JUGGLINGTAM" ON TRIP ADVISOR

(an unknown blogger that seeks attention via attaching their blog to known people and/or organizations to unethically attract attention via Google Search Engine Results that recklessly damages people and businesses via false reporting to stir-up sensationalism… in this case – she received " VERY favorable financial discounts" (benefits) from a competitor before traveling with GER to GER… she had no interest in learning NOR traveling as a humanitarian. Her mission was to conduct a smear campaign; exact quotation "I DON'T need to learn anything from you – I lived in China for 8 years – I know everything about Mongolians from the Chinese"… every Mongolian went into incredible shock of displeasure when they heard her words in my office. AND that's probably why she was an exceptionally #BadTourist because she didn't learn what she needed to learn; as listening and actively participating in the Responsible Travel Training would 100% unravel her smear campaign mission.)

On behalf of GERtoGER.org… Tabitha Roman HAD A CHOICE to take packaged tour or a humanitarian experience designed to financially support poor nomadic families across Mongolia – she doesn't state that she choose the "humanitarian experience" – and that she declined to pay for a proper tour package. Ms. Roman proceeded to visit a remote desert location where nomadic families had suffered years of droughts/winter storms and unethically treated it/reported it as if she was on a "tour"; this region is in such difficulty that nomadic families often have to travel many kilometers to get water, etc. Ms. Roman knew this wasn't a tour but rather an ethnographic humanitarian "RELIEF" experience to assist these nomadic families to generate alternative incomes as well as to help stabilize their desert lifestyles via experiencing their challenges AS AN AMBASSADORSHIP – so they wouldn't have to migrate via increase market support for desert nomads. Indeed all travelers to this region were properly informed that they would be traveling as "humanitarians" and not as tourists. Tabitha Roman makes no mention of this in her unethical reporting and she abuses very poor/EXCEPTIONALLY CHALLENGED desert nomads for her 'cheap' publicity to get herself known as a "Travel Blogger for Hire". Owing to Ms. Roman's unethical reporting, those nomadic families were so embarrassed they quit GER to GER (gave up on their much needed alternative incomes from tourism that they greatly needed for their family and children) and moved away without informing anyone… Tabitha Roman is an Abusive Bully that doesn't CARE about destroying poor nomadic families NOR that she GREATLY damaged www.GERtoGER.org market opportunities (for years) that actively supports the UN's MDGs/SDGs for over 15+ years towards poverty alleviation and much more – Tabitha Roman should be greatly ashamed – she is definitively NOT welcome back to Mongolia.

As a DIRECT RESULT of Tabitha Roman's Unethical Reporting on YouTube and Trip Advisor – the locals in the region are very distrustful of International Travelers and nomadic families are afraid of hosting travelers – as they've all seen how Ms. Roman has been exceptionally abusive. Local nationalists and extremists (not just in Mongolia) have targeted me for hate-crimes, stalking, etc., as they assume what is being written by Ms. Roman as being true without burden of proof/due process/due diligence.
THE 'SCAM A FREE TRIP' DEFRAUDER
TRIP ADVISOR SCAM 
Simon Lok – Extortion, Disturbing the Peace, Libel & Reckless Endangerment
Let's have the FBI or INTERPOL "POLYGRAPHY" Simon Lok since he enjoys playing a non-professional and VERY corrupt "profiler";
he may be a software developer – but owing to his lack of ethics/willingness to engage in illegal activities with his violently aggressive nature towards women of authority, disturbing the peace, extortion, fraud, defraud, organized transnational hate crimes (public defamation, organized harassment, etc.),  etc… I DON'T trust him at all.
CONCERNING "SIMON LOK" (DRUNK & VIOLENT)

To make an exceptionally long story VERY short… Simon Lok was noted by our driver as being hostile upon arrival in Mongolia though he showed my staff and I a very pleasant demeanor when he arrived for his 2 hour Responsible Travel Training. Upon arrival at our office, Mr. Lok was informed around 10 times that in Western Mongolia – the itinerary he had chosen was out of season – Kazakhs DO NOT fly their Eagles carelessly in the Summer season… This sort of experience is reserved ONLY for the winter months. We offered Mr. Lok a few options prior to traveling: 1) Get a refund now (as later will be too late) 2) We can organize a different trip 3) He can continue to Western Mongolia but he'll have to ACCEPT 100% responsibility for the quality of his own trip as we can not make any guarantees… Mr. Lok decided on Option 3… So I spent the next 2 hours training him on how to maximize his experience when out in Western Mongolia. After Mr. Lok's trip finished, we obtained information from the locals that he had a "fantastic time" though there wasn't a lot of "eagle-related" experience – as I previous informed him. Nonetheless, Mr. Lok was invited to a Kazakh Wedding & Feast where he had a wonderful time with the locals, he managed to have some "eagle time", he was taken to multiple geographical locations, etc., and all-in-all it did sound like a great time… HOWEVER, upon Mr. Lok's arrival in Ulaanbaatar – he stunk of Vodka, his speech was slurred and he was exceptionally aggressive… he entered our office yelling and shouting… "I DIDN'T GET TO EXPERIENCE THE EAGLES!!!!" etc., etc., etc… and he demanded a FULL REFUND. My colleague and I looked at one another and we calmly stated that he should write out his experience and well investigate his claims and get back to him shortly… he became outraged, shouting and then CHARGED my female colleague's desk like he was going to violently attack her – I immediately stood up in-between Mr. Lok and my female colleague and I started to take video recording via my iPhone in hopes that it would discourage Mr. Lok from any/all violent actions towards my female partner, etc. After a few minutes (when we finally stated that we had no choice but to call the local police to stop his disruption of the peace), he eventually left our office shouting "Me and a bunch of others are going to destroy your business!!! You just watch and see!!!" and then he exited. SHORTLY after, he kept to his promise and he did indeed stirred-up a handful of unethical travelers, trolls, etc., via Trip Advisor to join his VERY public defamation cause to destroy our marketing works and generate intentional social economic deprivation.


As a DIRECT RESULT of Sim Lok's Unethical Reporting on Facebook, Trip Advisor, etc. – the locals in the region are GREATLY offended and have become very distrustful of International Travelers – as they've also seen how Mr. Lok has been both abusive and VERY deceptive (no honor). Local nationalists and extremists (not just in Mongolia) have targeted me for hate-crimes, stalking, etc., as they assume what is being written by Mr. Lok as being true without burden of proof/due process/due diligence.
PROOF THAT I DON'T ASSAULT PEOPLE THAT BREAK THE LAWS; 
I JUST TAKE VIDEO, ETC., AND/OR CALL THE LOCAL POLICE – I have SELF CONTROL
Here is the iPhone Video that I took to stop Mr. Lok from Violently Attacking (physical attack) my female partner who was sitting at her desk;
 AND YES – I am rightfully agitated, so would you if you had to stop a violent drunk man in your own office… We just wanted him to LEAVE!
We are HUMANITARIANS and WE DO NOT DESERVE TO BE ATTACKED LIKE THIS!
Simon Lok parades himself as a software developer for Non-Professional Detectives; his skills are far from a REAL detective – he is corrupt, physically violent and untrustworthy… He also uses his "network" towards social economic deprivation as he "WILLFULLY FORCES HIS FRAUDULENT NARRATIVE PUBLICLY ON TripAdvisor" that is exceptionally dangerous – as he intentionally engages in reckless endangerment of innocent people to be unlawfully/fraudulently victimized; such as ourselves at GER to GER.
THE BIZARRE DEFRAUD INSTIGATOR
TRIP ADVISOR SCAM 
Calvin Knight – Extortion, Libel & Reckless Endangerment
Let's have the FBI or INTERPOL "POLYGRAPHY" Calvin Knight
CONCERNING "CALVIN KNIGHT" – SEXUAL HARASSMENT SCAM TO OBTAIN A NON-REFUNDABLE DEPOSIT

What transpired with Mr. Knight is an experience that I shall never forget. Mr. Knight and his wife arrived late for the training and his wife left Mr. Knight with me as she needed to attend to other matters – I didn't want to be unaccommodating so I permitted. What transpired during that training I will never forget for my entire life, it was exceptionally appalling! Though Mr. Knight is married – throughout the training Mr. Knight made countless 'uninvited sexual advances' towards me; without going into all the visual details… I'm not sure if his wife knows this or not – but he definitely seems to be bisexual (and I am not); lets just say that I tried and tried to ignore his advances till the point that I became soooo irritated that I was left with no choice but to lightly inform him that I am trained. This is the first time, ever in my career, that I become so uncomfortable and I felt so incredibly violated – it was just awful as I am 100% heterosexual male. After enduring the MOST painful training that I have ever had to give, his wife came back at the end all 'strange eyed' (which made me slightly aware that she might know about her husband) and they both abruptly left and decided to cancel their trip with GER to GER… This whole situation seemed way too rehearsed and bizarre to not be a fake drama to try to unethically obtain a non-refundable deposit with the goal of blaming/smear campaigning me if we adhered to our cancellation policy (as in accordance with our well establish policy – the night before departure there is no refund available as all the bookings have been coordinated – hotels, camps, drivers, guides, etc.). I have nothing against the LGBT community but this was a serious violation of my wellbeing – imagine if a woman was in my place – this would have merited as "sexual harassment", police would be called and Mr. Knight would have been pressed with Criminal Charges.

As a DIRECT RESULT of Mr. Knight's Unethical Reporting on Trip Advisor, etc. – it contributed to both locals and internationals thinking that we steal people's deposits, etc., which is absolutely NOT the truth; in fact, we've honored 100s of partial refunds owing to travelers getting sick, unable to continue, bad weather, etc. Local nationalists and extremists (not just in Mongolia) have targeted me for hate-crimes, stalking, etc., as they assume what is being written by Mr. Knight as being true without burden of proof/due process/due diligence.
THE SPANISH THIEVES
A Criminal Smear Campaign allowed by TripAdvisor "TO DISTORT" the fact that these thieves were caught by the Locals, Us and the Local Police
TRIP ADVISOR SCAM 
Luis Laguna & Monsterr Roverilta (Spain) – Thievery, Disturbing the Peace, Libel & Reckless Endangerment
Let's have the FBI or INTERPOL "POLYGRAPHY" The Spanish Couple
CONCERNING "MR. LUIS LAGUNA AND MS. MONSTERR ROVERILTA" OF SPAIN A.K.A 

"TRENTAMILKM" ON TRIP ADVISOR

FIRST AND FOREMOST – I DON'T ASSAULT PEOPLE WHEN THEY BREAK THE LAWS – 

I JUST CALL THE POLICE

.

Owing to these Spanish Couple a lot of people have had to unnecessarily suffer… Generally all was good except they didn't bring a "tent" as instructed by the itinerary and us – upon arrival at the rural location (Khuvsgul Lake) – locals called us and asked where are these 2 people's tent? We were shocked that they didn't organize their tent as they said they would… One local said that they could "rent" their tent to them to which these two Spanish people agreed that they would pay for the tent upon arrival from the Nomadic Experience – they didn't. Upon arrival, they ran into the bus and the local called me "this Spanish couple said they would pay the rental fee but they are now refusing… can you talk to them?!". I told the local person to pass the phone – the local said to the Spanish couple "Mr. Fromer from GER to GER" to which I heard the Spanish couple say "no, we don't talk!" over and over again…. the local asked me what they should do – I responded we'll talk to them upon arriving in Ulaanbaatar. When they arrived to Ulaanbaatar – they RAN into our office's restricted area where we keep all travelers (many) backpacks and personal items stored without our authorization and they started to RANSACK that area throwing other travelers backpacks everywhere – we called the police and the police told us not to let the Spanish couple leave until they arrived – as they want to talk to them. As instructed by the local police, we kept them from further damaging our and other people's properties that we could be blamed for… WITHOUT ASSAULTING anyone.

Finally the police arrived and shortly after the Spanish people apologized for their bad behavior and paid the rental fee for the local person that they stole from – and none of us pressed any criminal charges against this Spanish Couple (though the local police recommended that we should press criminal charges to protect ourselves from further damages that the Spanish Couple may try to unethically inflict upon us).

So, let me CLEARLY PUBLIC STATE that any online statements made by ANYONE in reference to me "assaulting, harassing, etc." ANYONE is 100% false 

(I ONLY provide 

situational information 

online/offline

 in lines with 'ethically' protecting our UN SDGs Initiatives as well as our UN's Universal Declaration of Human Rights Articles 1, 2, 3, 5, 7, 8, 9, 11, 12, 13, 18, 19, 20, 21, 22, 23, 24, 25, 28, 29, 30; as our overseas humanitarian works were/are/still exceptionally important to 100s of rural nomadic families, etc.

) – I have NEVER been charged with "Assault, Harassment, Disturbing the Peace, etc." NOR ANY OTHER unlawful criminal actions within Mongolia NOR in the United States of America NOR in any other country; and I have 1000s of character witnesses (spanning decades across tourism, film productions, USAID Initiatives, exceptionally challenging special overseas projects, etc.) around the world that can testify to this as well as legal documentation that CLEARLY states that I have NO CRIMINAL RECORDS.

Owing to Trip Advisor's negligence, they have allowed those slanderous and unlawful libelous statements made by the Spanish who have used my 'full name' that is 100% in violation of Trip Advisor Guidelines to remain online for over 6+ YEARS

; 

the Spanish Couple were caught committing MULTIPLE local crimes (thievery, fraud, defraud, disruption of the peace, etc.) and they have intentionally manipulated Trip Advisor for public slander/defamation/fraud/etc., (even more crimes) – and Trip Advisor has/continues to publicly victimized me for 6+ years via allowing such libelous/hate-crimes to exist on their platform without validating NOR fact-finding as they have intentionally rejected to read any information that I've sent (corporate fraud, reckless endangerment [daily my personal safety/economics/etc., were at risk for many years; nationalists/extremists/etc.] via negligence/lack of due diligence, etc.).

As of today –

 less than 20 or so travelers that engaged in overseas crimes, I believe from 1000s of successful travelers for 15+ years

; however, this figure DOES NOT include the years of online/offline criminal works carried out by slanderous-trolls for hire as Mongolia's tourism industry does behave/networks/operates like a "

Mafia

"; 

lots of tourism industry greed issues 

and our humanitarian works were becoming rapidly successful –

it's CLEAR that many wanted to intentionally disrupt us at 

www.GERtoGER.org via Trip Advisor, etc.)

 

As a DIRECT RESULT of

MR. LUIS LAGUNA AND MS. MONSTERR ROVERILTA

 Unethical Reporting 

on Trip Advisor, etc. – it has made the locals very untrusting of International Travelers as they have firsthand experiences & abuses that shows they cannot be trusted. As for us in the office, we have become very worrisome every year that we may get more of THESE TYPES of unethical travelers – they've definitely poisoned our kind-hearted environs.
This perfectly highlights HOW the Spanish Thieves collaborated to make it look like they were Assaulted – but in reality – it's all a drama… when we called the local police to stop their thievery/disruption – they also tried to run away.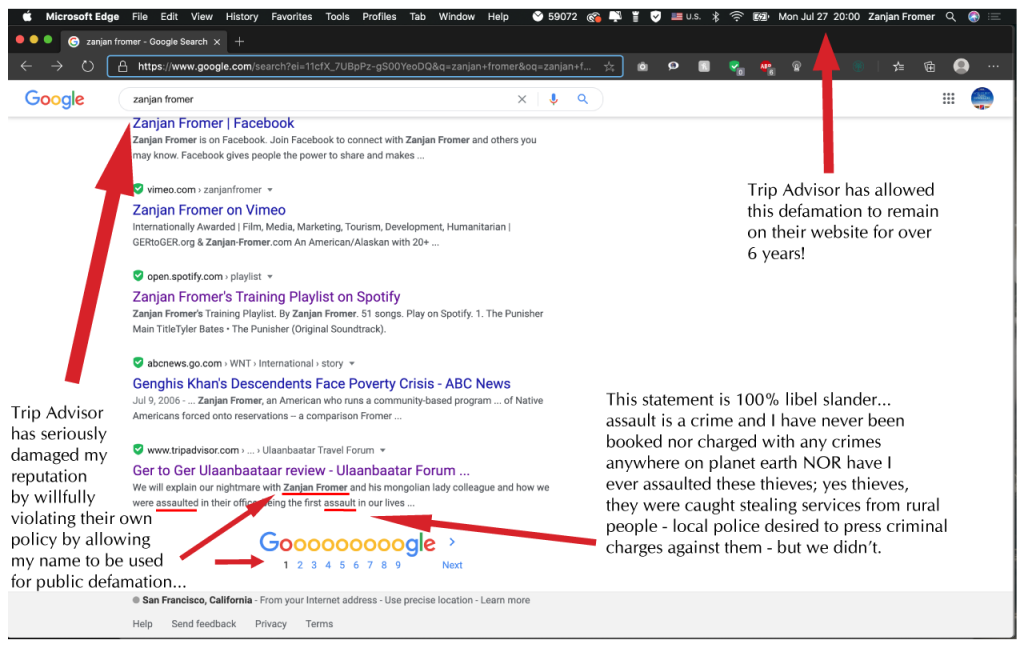 Now Let ME Address the "GREATLY Exaggerated BUT REAL CLIENTS"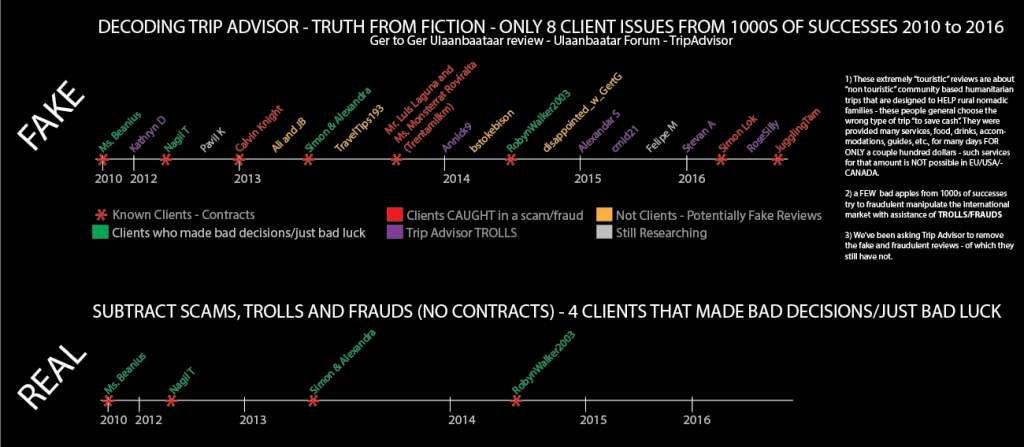 As both my Organization and I have been publicly attacked by name via Trip Advisor's willful negligence – the following information is ONLY PART of what I provided to assist in comprehension via color coding (in addition to contracts, terms and conditions, two hour training materials explanations, etc) . In truth, only 4 contracted clients (subtracting frauds, trolls, etc.) – from 1000s of successes – made complaints via Trip Advisor; those clients unfortunately made some very bad decisions on their own (just bad luck) of which has been well investigated. As for the rest, they are NOT clients of GER to GER (fake accounts/fraudulent reviews) and/or are known-scammers that were caught conducting acts of fraud/ thievery/ defraud/ disruption of the peace/ slander/ etc., overseas and even after spending countless hours/days/weeks/months (pre trip) explaining everything clearly to them via emails, website, trainings, terms & conditions Q&As, contract Q&As, etc., they later decided to VERY publicly slander us via Trip Advisor – exceptionally deceitful/hateful people; they all knew that they were buying "reality-community based/managed tourism services" and not "fully packaged vacation tours" and they were all properly educated on this matter. NONETHELESS, all their complaints have been written as if they have purchased "fully packaged vacation tours" for $1000s when in actuality – all these people only spent $200 to $300 USD (on average) for an average 7 Day Community Based Reality Cultural Trip with locals (trips about "reality"/Real Lifestyles of Nomadic Families – ZERO Entertainment) that includes 3 hearty meals a day, unlimited teas/drinks, their own nomadic Ger, local nomadic guides, horses/ox carts to ride, tons of trekking/hiking around the nomadic families homes, live-stock experiences, incredible geographies, etc., etc., etc.! Literally, on PLANT EARTH there is almost NO tour operators that offers "7 Day Experiences" FOR ONLY a MEAGER $200 to $300! WE OFFERED THESE FOLKS TO BUY FULLY PACKAGED VACATION TRIPS – BUT THEY DECLINED TO SPEND EXTRA MONEY TO PURCHASE IT (often they couldn't financially afford it). And yet,  Trip Advisor has allowed these VERY SMALL HANDFUL of people to Aggressive Public Slander me and my organization online unlawfully and recklessly endangering my overseas personal safety and our social economics for years; our tourism market, our business opportunities, our film production opportunities, etc., have all been greatly impacted negatively owing to Trip Advisor's willful negligence/lack of fact finding/allowing such public displays of hateful libel without desiring to become acquainted with all the facts, etc. 
Here are a Couple Examples of REAL clients who've just made terrible mistakes and/or should have opted for a Tour Packaged instead of a "REALITY" Experience with Nomadic Families – as it's 100% Clear they write libelously as if they were supposed to be on a Tour – which isn't the case.

CONCERNING "Robyn Walker 2003"  – LIBEL

On behalf of GERtoGER.org – we are deeply sadden to hear about Robyn's experience… after her trip she didn't approach us but rather went to Trip Advisor to post some very hurtful remarks. After investigation into her matter, we obtain the whole "context" of her troubles… After her successful trip with GER to GER Robyn missed her bus back to Ulaanbaatar and instead of contacting me or anyone at our organization, as we would have assisted her immediately, she decided to organize her own transportation back to Ulaanbaatar on her own initiative – that was her disaster – as she was traveling irresponsibly and had chosen the wrong people to travel with to Ulaanbaatar. Nevertheless, GER to GER's responsibilities ended when her trip ended – the travel back to Ulaanbaatar is 'really' her responsibility as we are not liable for the Mongolian State Bus Authority (a public bus system) nor are we responsible for their bus schedules. It's like finishing a tour in UK and afterwards I miss the bus or train home… who's responsibility is it? Mine or the tour operator? Exactly, it's not the tour operator's responsibility (as CLEARLY written and explained on our website, terms & conditions, handbook, contracts, office trainings, etc.) – however – we would have assisted her if she would have contacted us via the Emergency Number that we provide on the GER to GER's Travel Pass as we instruct and have assisted countless other travelers who made mistakes, needed assistance, etc.

As a DIRECT RESULT of Ms. Walker's Unethical Reporting on Trip Advisor, etc. – she has damaged our reputation as well as our market opportunities for Nomadic Families.


CONCERNING MS. BEANIUS (NEW ZEALAND) – LIBEL

Inaccurate Information Dissemination: We once had a couple (Ms. Beanius of New Zealand) that were traveling to remote location with a Mongolian guide who ended up catching some diarrhea. GER to GER upon lengthy consultations with this guide decided that the guide was taking the correct methodology to flush his system – the guide said he'll be better within the next day or two and he really didn't desire to quit the trip nor the clients… GER to GER offered this guide to replaced (we would burden the cost of sending someone out) but he declined stating that if he truly got worse that he would opt to be replaced – so we all agreed to watch him for a day to which he did get better. Nonetheless, the intentional dissemination of "inaccurate information" is considered to be a scam as Mr. BEANIUS decided to go onto Trip Advisor and promote incomplete and inaccurate information… in the outback it's our policy to look out for each other (same if the client gets ill – the guide carefully looks after the well-being the of clients/NOT ABANDONED THEM)…

As a DIRECT RESULT of Ms. BEANIUS's Unethical Reporting on Trip Advisor, etc. – this guide was so embarrassed that he quit his job and has not worked with GER to GER since. Also, it's important to note that this also creates an issues with local human resources for GER to GER as many potentially 'excellent' guides are worrisome that they will also be publicly abused online as the locals all know who leads which trips; it doesn't matter what Ms. BEANIUS's intentions are – the result is that locals loose the opportunities towards human development, economics, and are afraid of foreigners… Mongolia is a developing country – it needs a couple more decades at least – foreigners traveling to Mongolia should be more supportive than exceptionally abusive.
HOW TRIP ADVISOR'S ANTITRUST ISSUES AND FRAUDULENT POSTS BECOME 'WEAPONIZED' TO DESTROY GOOD PEOPLE AND BUSINESSES VIA GOOGLE SEARCH ENGINE RESULTS 
HERE'S THE REALITY –




100% SUPPORTED BY EVIDENCE, FACTS, DOCUMENTATION, ETC.
TRIP ADVISOR's WILLFUL VIOLATIONS OF THEIR OWN GUIDELINES IS LIKE AN "UNREGULATED GUN DEALER" THAT GIVES OUT NON-TRACEABLE  FULLY AUTOMATIC WEAPONS TO BULLY-KIDS AND LETTING THEM LOOSE IN PUBLIC SCHOOLS!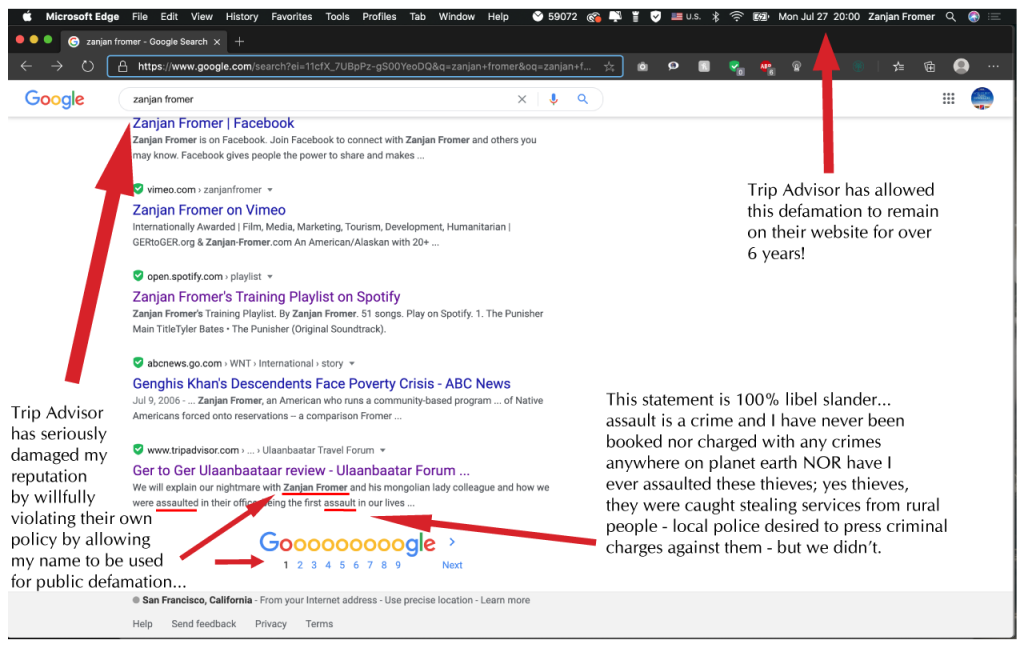 OWING Trip Advisor's Google Search Engine Super Authoritative SEO Status it ranks Superior – metaphorically – Trip Advisor's Platform is like a Gun Dealer that freely gives its VERY POWERFUL fully loaded automatic weapons to very angry bully-kids and letting them loose in public schools… We all know there will be countless casualties – likewise as the results of any/all fraudulent posts will Automatically Reach 1st/2nd Page on Google Search Engines VIA the names of people/organizations written within. Hence, Trip Advisor must be held responsible and ACCOUNTABLE for its willful negligence to intentionally/knowingly allow this incredible level of reckless endangerment… Trip Advisor was/has been/is informed about this countless times for many years YET they have not ethically corrected these issues – still till today – they allow them.
Trip Advisor FEARS to Acknowledge their Negligence as it does makes them 100% legally liable for any/all past damages to people and businesses "AROUND THE WORLD"; as their own internal systems/ guidelines are easily exploited and manipulated which hasn't been fixed for years!
TRIP ADVISOR DOES NOT PROPERLY FIX THEIR FAULTY SAFETY SYSTEMS; LEAVES IT INTENTIONALLY OPEN FOR EASY MANIPULATIONS THAT ENDANGERS GOOD PEOPLE & BUSINESSES
MUCH LIKE A CAR MANUFACTURE THAT HAS FAULTY SAFETY SYSTEMS – MOST RESPONSIBLE MANUFACTURES WILL RECALL… BUT NOT TRIP ADVISOR – THEY INTENTIONALLY DO NOT RECALL – THEY'LL ALLOW THE FAULTY SYSTEM TO EXIST FOR YEARS AND YEARS THUS INTENTIONALLY KILLING AND/OR SEVERELY DAMAGING COUNTLESS BUSINESSES AND GOOD PEOPLE'S REPUTATIONS
The fact is that ANYONE can make a "Fake" Gmail account and register with Trip Advisor and write anything, about anyone, anytime they desire and Trip Advisor doesn't know "WHO IS WHO"… This incredible level of negligence has been exploited as early as 2012/2013 (potentially much earlier) as we examine both my own and our organization's victimizations by Trip Advisor – internal research works; which 100% proves that Trip Advisor willfully VIOLATES its own Guidelines, etc.! Trip Advisor has been made aware of this (for many years) and they still HAVE NOT taken any steps to eliminate the easiness of their platform exploitation/manipulation for criminal activities.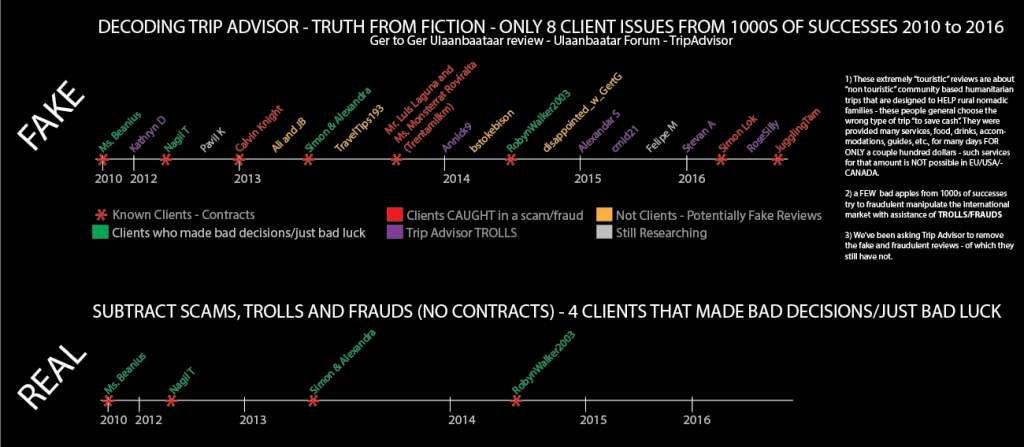 Verifiable Parties are the First Two: 1st Party "Trip Advisor", 2nd Party "The Company and/or Victim" and
3rd is often "The Unknown User Accounts" (those that post libelous statements).
FOR YEARS Trip Advisor's Platform has been Plagued with Criminal LIBEL Activities OWING to Intentional Negligence; AND TRIP ADVISOR KNOWS THAT THEY DON'T KNOW! 
The main reason why Trip Advisor doesn't want to acknowledge this – their entire business is existing on the premise of "TRUSTING PUBLIC REVIEWS" by 3rd parties that are unverified/ undocumented/ etc., and if those reviews are FAKE, FRAUDULENT, ETC., and 
Trip Advisor can be EASILY exploited and manipulated FOR CRIMINAL ACTIVITIES – THEY ARE ULTIMATELY LIABLE FOR LACK OF SAFETY FEATURES – THEY ARE DANGEROUS TO THE INDUSTRY AND THEY KNOW IT!
UNLAWFUL SLANDER AND PUBLIC DEFAMATION (LIBEL) WITH THE INTENT OF "RECKLESS ENDANGERMENT" OF INNOCENT VICTIMS AND THEIR SOCIAL ECONOMICS VIA TRIP ADVISOR'S NEGLIGENCE AND OUTSTANDING PLATFORM EXPLOITATIONS/MANIPULATIONS FOR CRIMINAL ACTIVITIES THAT HAVEN'T BEEN CORRECTED FOR YEARS – EVEN AFTER BEING INFORMED ON NUMEROUS OCCASIONS.
SEEKING PLAINTIFF/ANTITRUST LAWYER
I'M SEEKING RECOMMENDATIONS FOR AN EXCELLENT "USA LAWYER"
In relation to my 'previous public statement of innocence'… I'm seeking an experienced USA Plaintiff Lawyer that specializes in Antitrust, Contract Law, Fraud and Public Defamation (LIBEL).
I have a strong case with all the materials; signed contracts/disclaimers with passport copies, TERMS & CONDITIONS, training materials, online materials, 1000s of emails, GLOBAL WITNESS LIST of 100s/1000s that spans over a decade, etc., etc., etc…
The handful of potential defendants will need to provide their "Burden of Proof" which they don't have – they only have their "libel".
 As they were caught committing fraud/breach of contract/disruption of the peace/defraud and used an internet platform to socially and economically discredit me via libelous statements. It was/is the frauds hope that via slander they could damage my credibility to an extreme that I would be isolated and no-one would want to assist me NOR review all the case materials – that are exceptionally damaging to the frauds.
Furthermore, their unlawful libel has directly damage my social economic opportunities for years; as if anyone conducted a Background Check, they would potentially assume that these libelous statements are true – of which they are not.
Hence, I desire to legally sue all the frauds/scammers/trolls as well as the internet company (corporate fraud) that has unethically allowed this to continue without any validation nor fact-finding that has recklessly endangered my physical-security abroad/ credibility/ social economic opportunities/ etc., as well as our abroad humanitarian works for years; of which, is well-documented.
Any/all assistance on this is greatly appreciated – if you can recommend a good Plaintiff Lawyer – please do kindly contact me…